Press release
Minister concerned by sentencing of youth activists in Azerbaijan
Minister for Europe deeply concerned by sentences given to members of the NIDA Youth Movement in Azerbaijan.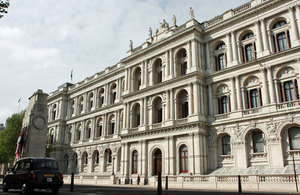 Speaking on 6 May, David Lidington, Minister for Europe said:
I am deeply concerned by the sentences of 6-8 years imprisonment passed to eight members of the Azerbaijani NIDA Civic Youth Movement. We have monitored these cases closely throughout the trial. The Foreign Secretary raised his concerns about the detention of members of the NIDA Youth Movement during his visit to Baku in December 2013.

I am particularly concerned by reported shortcomings during the trials of these activists for the alleged organisation of mass disorder and illegal possession of firearms and narcotics. The UK will continue to raise its concerns about an increasingly worrying trend of apparently politically motivated detentions and prison sentences being issued in Azerbaijan.
Further information
Follow Foreign Office Minister David Lidington on twitter @DLidington
Follow the Foreign Office on twitter @foreignoffice
Follow the Foreign Office on facebook and Google+
Published 6 May 2014