News story
Minister brings creative industry delegation to Korea
Ed Vaizey today embarks on a three-day visit to Seoul with 15 of Britain's leading companies from the creative industry sector.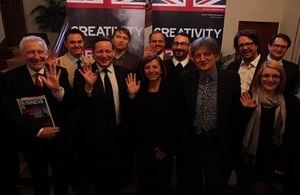 The UK Minister for Culture, Communications and Creative Industries is in Korea to promote British excellence across the creative industries and explore new partnerships with Korean companies.
Whilst in Seoul, Mr Vaizey is due to meet Park Won Soon, the Mayor of the city. In addition to supporting an industry-led seminar at the Grand Intercontinental Hotel, his programme also includes meetings with organisers of the Pyeongchang 2018 Olympic Games and prominent business leaders.
The UK's creative industry is one of the largest in the world and contributes more to the UK Economy than the financial services sector. The industry is worth £36 billion a year, employing 1.5 million people who generate £70,000 every minute.
A wide range of the UK's creative industry sector is represented, including architects, fashion designers and digital media specialists.
Speaking at a press conference this morning at the British Ambassador's Residence, Mr Vaizey said:
I am delighted to be here in Korea to support this delegation of leading British businesses and showcase great British creativity. I hope we will be able to strengthen our existing ties and build new partnerships that are mutually beneficial for our two countries.
Published 10 March 2013