News story
Minister blocks export of national treasure
Rare mirror to be sent abroad unless matching offer of £33,000 can be found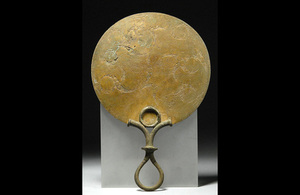 An extremely rare Bronze mirror, dating from the Iron Age and discovered near Didcot , Oxfordshire, has had a temporary export bar placed on it to provide a last chance to raise the £33,000 needed to keep it in the UK.
The mirror is made of copper-alloy and its complex and beautiful decoration is an unusual and innovative example of Celtic 'mirror-style' art'. Discovered by a metal detectorist in the Didcot area prior to 2007, it is a rarity – there are only 18 complete and decorated mirrors are known from the later Iron Age (300 BC – AD 50).
Mirrors from southern England, like this specimen are highly significant for our understanding of the later Iron Age, and offer important insights into the social changes which occurred in the century before the Roman conquest in AD 43.
Culture Minister Ed Vaizey said:
"The Didcot Mirror is a beautiful object dating from the Iron Age and would be a tremendous addition to any one of our many outstanding national, regional and local museums. I hope the export bar I've placed on the mirror allows time for a UK buyer to come forward and secure it for the nation."
The decision on the export licence application for the Mirror will be deferred for a period ending on 14 June 2014, however this may be extended until 14 September inclusive if a serious intention to raise funds to purchase the Mirror is made.
Organisations or individuals interested in purchasing the mirror should contact RCEWA on 0845 300 6200.
Additional Information
Press Release (MS Word Document, 82.8KB)
Published 15 April 2014