Press release
Minister announces £6 million boost for Solent economy
Minister for Portsmouth confirms £2 million funding for Gosport aviation firm.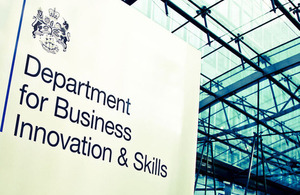 Minister for Portsmouth confirms £2 million funding for Gosport aviation firm
new £4 million skills package builds on Solent £150 million Growth Deal
HRH Duchess of Cambridge visits Ben Ainslie Racing in Portsmouth
Vector Aerospace, a world leading Gosport-based business in aerospace maintenance, has today (12 February 2015) had confirmation that its bid for Regional Growth Fund (RGF) cash is being taken forward. Subject to due diligence, this will enable Vector Aerospace to enhance the design and aviation services capability at its Fleetlands site in Gosport. The firm is aiming to diversify its customer base to include more civil customers and take on more skilled workers as it grows.
The good news is being delivered by Matthew Hancock, the Minister for Portsmouth, on a visit to the firm today. He is also attending the reception with HRH the Duchess of Cambridge at the Spinnaker Tower in Portsmouth being held today by Ben Ainslie Racing (BAR).
The government has also today confirmed a new £4.36 million package of joint government and industry funding to improve skills for the NHS' 600,000 support workers, which will establish a new national infrastructure for skills provision. University Hospital Southampton NHS Foundation Trust and its partners are leading the project
Minister for Portsmouth Matthew Hancock said:
This is set to be a momentous year for Portsmouth and the whole Solent region. We worked hard to make sure Ben Ainslie Racing could find a home here, and hopefully Sir Ben can harness the fantastic marine engineering skills in the area to enjoy success in the America's Cup World Series races this June.

There's great potential in the Solent region which is why we've committed over £150 million through the Growth Deal, we're investing over £4 million today into a new NHS skills pilot based at Southampton, and also providing a further boost with funding for Vector Aerospace who are aiming to expand into new markets and create high-skilled jobs.
Michael Tyrrell, Vector Aerospace UK Managing Director, said:
We are now in a position to progress our expansion programme for Design Services. This is excellent news, not just for our operation here but also the region, as Vector Aerospace is the largest engineering employer in Gosport. It will also help to strengthen the region's aerospace skill base as it seeks to reduce its dependency on military work.
HRH the Duchess of Cambridge is visiting Portsmouth today to see first-hand the progress being made on construction of the new BAR headquarters and visitor centre.
The RGF was launched in 2010 and has now invested £2.85 billion in regional companies, helping them to expand and take on more staff. Vector Aerospace is one of 63 new projects and programmes benefitting from today's sixth round of RGF funding which has seen £300 million awarded to firms across the country.
Notes to Editors
Vector Aerospace is a global provider of aviation maintenance, repair and overhaul (MRO) services. Through facilities in Canada, the United States, the United Kingdom, France, Australia, South Africa and Kenya, Vector Aerospace provides services to commercial and military customers for gas turbine engines, components and helicopter airframes. Vector's customer-focused team includes over 2,700 motivated employees.
Vector Aerospace intends to use RGF money to compete more effectively and more quickly for a bigger piece of the global aerospace modification and upgrade market. This is an important element of the company's strategy to transform the business from a predominantly MoD customer base to a more balanced military and civil portfolio, offering new services to new customers. This will sustain and create skilled jobs, as well as adding value to the wider supply chain, at a time when the Solent area has suffered an economic downturn.
In total, £2.85 billion has now been invested in regional companies through the Regional Growth Fund, helping them to expand and take on more staff. For every £1 the government has invested through the Regional Growth Fund, the private sector has put in £5.50, meaning the total investment is now expected to attract £16 billion of private sector support. Over 100,000 jobs have already been created with a further 480,000 expected by the mid-2020s.
Businesses across all industrial sectors benefit from the funding, with over £1.1 billion being invested in manufacturing, including £364 million in automotive, £100 million in aerospace and £104 million for low carbon enterprises.
Today, the RGF is backing British-based business by awarding 63 new projects and programmes across England with a further £297 million. The investment from the RGF will fuel business expansion and is expected to unlock £1.5 billion of additional private sector investment and create or safeguard thousands of jobs.
The Employer Ownership Pilot (EOP) is a £340 million competitive fund that invited employers, over 2 rounds, to tell government how they would better use public investment, alongside their own, to invest in the skills of their current and future workforce in order to grow our economy.
The project is for England and is jointly funded by the Department for Business, Innovation & Skills (BIS) and the Department for Education (DfE), and is administered by the Skills Funding Agency (SFA). The project was developed in conjunction with the UK Commission for Employment & Skills (UKCES).
University Hospital Southampton NHS Foundation Trust is one of the largest acute teaching trusts in England, with an annual spend of £572 million at 3 sites across the city of Southampton. It provides hospital services for 1.9 million people living in Southampton and southern Hampshire and specialist services including neurosciences, respiratory medicine, cancer, cardiovascular, obstetrics and specialist children's services to more than 3.7 million people in central southern England and the Channel Islands.
Published 12 February 2015