News story
Minister announces £3 million funding for stem cell services
The funding will support a partnership between NHS Blood and Transplant (NHSBT) and blood cancer charity Anthony Nolan.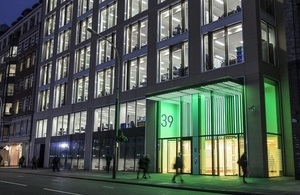 This partnership will further improve the provision of stem cells in the UK. It will help patients with leukaemia and other life-threatening blood disorders and take the total amount of investment in this area to £19 million since 2010.
This funding will also help to increase the number of young adult stem cell donors and particularly those from black, Asian and ethnic minority populations that are currently under-represented.
Life Sciences Minister George Freeman said:
This funding is vital to help improve stem cell services and ultimately save lives. It will increase the number of young male donors and allow a targeted collection of cord blood from those groups who currently find it difficult to find a suitable match.
NHSBT, working in partnership with Anthony Nolan, manages the national voluntary donation system of blood, tissues, organs and stem cells for people who need stem cell transplants.
A review of UK stem cell transplantation published today by NHSBT has shown that more UK patients are now receiving a stem cell transplant than ever before. In 2013, 258 additional patients received a stem cell transplant from an unrelated donor compared to 2010. That translates to an estimated additional 130 lives saved each year.
Andrew Hadley, General Manager of Specialist Services Operations at NHS Blood and Transplant, said:
It's great the Department of Health has decided to provide us with more funding to continue our work saving and improving lives through stem cell and cord blood donation. By 2020 we hope to have 150,000 adult stem cell donors typed to a high resolution which will reduce not only the time it takes to match patients with donors, but for people in desperate need of a transplant to receive lifesaving treatment.
Henny Braund, Chief Executive of Anthony Nolan, said:
The injection of additional funding from the Department of Health is most welcome and will make a considerable difference in helping us save more lives. It will enable us to increase the number and quantity of stem cells available for transplant.
The funding comes as the Department of Health also publishes a report from the Regenerative Medicine Expert Group. The report, 'Building on our own potential: a UK pathway for regenerative medicine', outlines the progress made in developing stem cell services and the important role that funding stem cell services can make in helping to save lives.
Published 24 March 2015