"Mining is the future for Afghanistan": UK Special Representative
UK Special Representative for Afghanistan and Pakistan, Mark Sedwill, UK Trade & Investment Asia Director, John Saville, and Afghanistan's Minister of Mines, Mr Wahidullah Shahrani, co-chaired a mining symposium at Lancaster House on 30 June.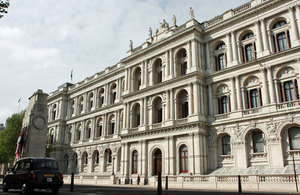 The Foreign Office-UKTI mining symposium focused on the opportunities for investment in the mining sector in Afghanistan, where much of the potential for the country's long term economic development lies. Minister Shahrani estimated the value of its mineral resources such as deposits of iron ore, copper, gold, lithium and rare earth minerals, as well as undiscovered gas resources, to be three trillion dollars.
This film shows the progress being made on the ground in terms of building up the mining industry within Afghanistan. There are a number of profitable businesses which are growing rapidly thanks to the improvements in infrastructure.
The Afghan economy is growing
As well as highlighting the opportunities, Minister Shahrani did not shy away from the challenges the country faced attracting sustainable investment. He recognised that the key areas where challenges remained were obviously in infrastructure and security.
The Minister said that in the last nine years there had been significant development of railways and roads. This is benefiting the livelihood of local Afghans and assisting trade through Afghanistan.
The Afghan Ministry of Mines has established a 7000-strong Mining Protection Unit, in addition to other national security forces. Mark Sedwill, UK Special Representative for Afghanistan and Pakistan agreed with Minister Shahrani; he said, "Despite the significant risks, mining is the future for Afghanistan".
Security in Afghanistan is improving all the time, although gains made by international and Afghan forces remain fragile. Afghanistan is undergoing a gradual transition to Afghan-led security, which will be completed across the country by the end of 2014.
Published 4 July 2011