Press release
Millions to benefit from cold weather cash
Extra government help as the Cold Weather Payments season begins.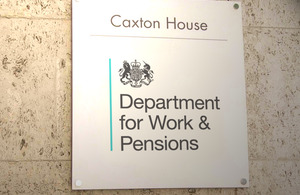 An estimated 4 million people are in line for extra government help this year to turn up the heating during the coldest snaps, as the Cold Weather Payments season begins today (1 November 2014).
Poorer pensioners and low-income households, which include disabled people or children under the age of 5, could be due a £25 Cold Weather Payment each time temperatures either dip below an average of zero degrees Celsius for 7 consecutive days, or are forecast to do so.
The latest figures show that more than £700 million has been paid out to vulnerable people under this scheme since 2010 through some 28 million separate payments.
This government's permanent increase to £25 means that an additional £466 million has been paid out – 3 times the amount that would have been paid if Cold Weather Payments had remained at their previous rate of £8.50.
DWP Minister Steve Webb said:
It is vital that pensioners and vulnerable people are given extra help to turn up the thermostat and keep warm when temperatures plunge.

This help, combined with the Winter Fuel Allowance and Warm Home Discount Scheme, is making a real difference to help the most vulnerable people in our society.

In most cases, Cold Weather Payments are paid automatically to those eligible. But I urge anyone, especially older people who might be missing out on Pension Credit, to call us.
There are up to 1.6 million pensioners who may be entitled to Pension Credit who are not currently claiming it and who could be eligible for Cold Weather Payment as a result.
Who qualifies?
Pensioners on Pension Credit will usually qualify for the scheme. Some people on other benefits may also qualify for a Cold Weather Payment, including:
Income Support
income-based Jobseeker's Allowance
income-related Employment and Support Allowance
Universal Credit
People can find out if they are due a Cold Weather Payment by calling – 0800 99 1234
This number can also be used to claim Pension Credit and Housing Benefit without having to sign a form.
More information
The estimated 4 million eligible recipients is based on data for 2013 to 2014, the most up-to-date available at the time of the scheme start date. Payments are usually made within 14 working days of a cold snap.
Around 9 million households will also receive Winter Fuel Payments to help towards the cost of their heating bills. Households with someone at State Pension age for women will receive up to £200, and households with someone aged 80 and over will receive up to £300.
More than 2 million people will receive Warm Home Discount in 2014 to 2015. This year the discount will be £140, an increase on last year's amount of £135.
Contact Press Office
Media enquiries for this press release – 0203 267 5134.
Press Office
Caxton House
Tothill Street
London
SW1H 9NA
London Press Office (national media and London area enquiries only – not questions about personal claims) 020 3267 5144
Out-of-hours (journalists only) 076 59 108 883
England and Wales (local media enquiries) 029 20 586 then 097 or 098 or 099
Scotland (local media enquiries) 0131 310 1122
Follow DWP on:
Published 1 November 2014