News story
Military heroes honoured at Sandhurst
The Head of the Army paid tribute to the 118 UK Service personnel named in today's Operational Honours List at the famous military academy.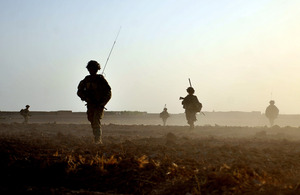 Speaking at the Royal Military Academy Sandhurst, Chief of the General Staff (CGS) General Sir Peter Wall said:
It's a great privilege for me to be here today and I am extremely honoured to be celebrating the remarkable achievements of these men and women who served on operation in the past year.
The professional Head of the Army, General Wall made it clear that personnel from all 3 Services were being honoured today:
Regularly on operations our service men and women face extreme danger from clever, determined and ruthless enemies, none more so than in southern Afghanistan. Although just a small fraction of our service men and women are here today, we are here also to recognise the commitment and contribution of all who serve in the defence of the realm.
This awards list marks the courage and achievement of a number of individuals in a number of theatres of operation. But it does inevitably include many people who served in Afghanistan last summer under command of 12th Mechanised Brigade (12 Mech Bde).
12 Mech Bde's tour was noted for progressing the momentum of transition to an Afghan lead for security across Helmand province and for significantly advancing the development of a strong and capable Afghan National Security Force (ANSF).
Honouring the fallen
General Wall praised the progress that had been made, but recognised that not all who had served under Operation Herrick 16 had returned. He said:
They gave their lives in the service of their comrades and this country. They will not be forgotten and our thoughts and prayers are with their families as we remember their sacrifices.
General Wall said that the remarkable acts of gallantry performed by these young men and women showed that they were fantastic role models for their generation and highlighted the calibre of the nation's young people in the Armed Forces.
Brigadier Doug Chalmers, who commanded 12 Mech Bde during Herrick 16, said:
Each Herrick faces different challenges. Our predecessors built on the catalytic events that formed the beginning of Transition back in 2011. Our tour had to sustain and increase that momentum throughout the summer of 2012 to set the condition for the campaign's final stages.
Throughout last summer the insurgency was violently focussed on the regaining of the initiative. The Servicemen and women who were developing the ANSF had to be protected by the use of manoeuvre in depth.
"A growing sense of Afghan confidence."
Brig Chalmers said:
By following this approach we successfully kept the insurgents displaced from the populated areas. In doing so we gave the Afghans confidence to take on an unprecedented level of responsibility for protecting their people, who enjoyed another summer of economic growth. The insurgents were unable to threaten this growing sense of Afghan confidence.
These gains advanced the campaign significantly. Brig Chalmers said:
But they were exceptionally hard won by the relentless professionalism, dedication and perseverance of all who deployed during the Herrick 16 period, sadly at the cost of the physical sacrifice of far too many.
With the help of British troops, the ANSF held the initiative throughout the summer thereby controlling the circumstances. Brigadier Chalmers said:
But sometimes circumstances were unpredictable, unpredicted and beyond our control. They demanded exceptional individual acts.
On every one of those occasions soldiers of Task Force Helmand and Joint Force Support Afghanistan rose to the challenges with courage, initiative and discipline. Their actions resolved extraordinarily difficult circumstances. They ensured that the campaign continued to advance.
Today we recognise some of those sailors, soldiers, and airman alongside those who have been awarded honours for operations that have been conducted elsewhere in the world.
Lone soldier drove insurgents from Afghan compound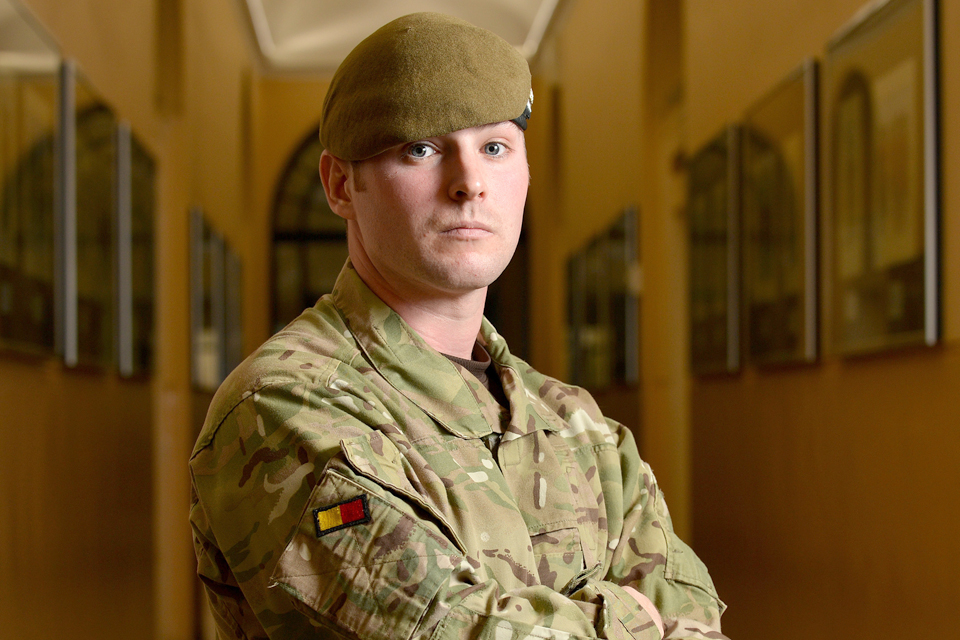 Among the 24 servicemen and one service woman present was Lance Corporal Lawrence Kayser, 27 from Woodton, Norfolk, who was awarded the Military Cross (MC) for single-handedly clearing an entire compound of insurgents in Afghanistan.
His act of bravery saved his colleagues from a 'potentially disastrous situation' in June 2012 when his platoon came upon a large-group of enemy while preparing an ambush in Helmand.
His citation explains how, during a patrol, LCpl Kayser and his platoon suddenly came under heavy insurgent fire. Realising the entire platoon was at risk, LCpl Kayser took immediate action.
Leaping from a ditch, he charged the enemy fighters and engaged at close quarters, racing into their compound.
LCpl Kayser quickly shot and incapacitated an enemy in his path before being hit by shrapnel from a grenade, wounding his arm. But LCpl Kayser ignored the injury to push home his solo assault, driving the remaining insurgents out of the compound and safeguarding his platoon.
An extract from LCpl Kayser's citation reads:
Still only an inexperienced Lance Corporal, the decisions Kayser made that day were in the full knowledge of the extreme danger he would be exposed to. At any stage he could have stopped or waited for support but he knew with every second the shock effect of his assault would dissipate placing his comrades in greater danger.
He therefore chose to press forwards alone. In the aftermath it became clear that the insurgents that Kayser intercepted were in the process of preparing their own attack. Kayser's exceptionally gallant actions undoubtedly saved a potentially disastrous situation and are worthy of very significant national recognition.
Helmand base defender honoured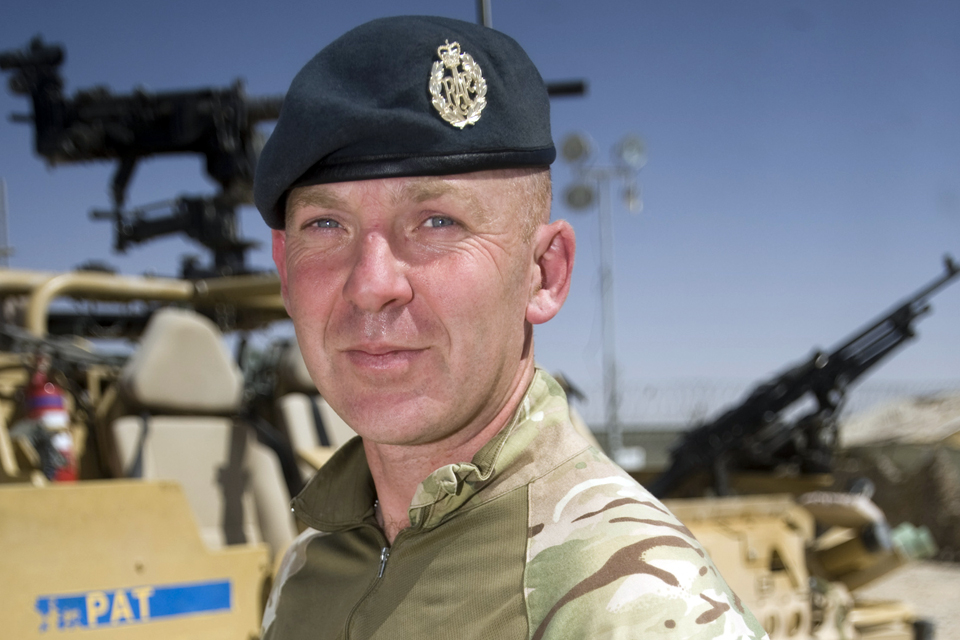 Among the others honoured was RAF Regiment Sergeant Roy Geddes, aged 43, of Elgin, Monmouthshire, who played a key role in the defence of Camp Bastion, the main British base in Afghanistan's Helmand province, for which he receives the MC.
At just after 2200 hours on 14 September 2012 a well-armed 15-man insurgent team breached the perimeter fence, launching a battle that would last until dawn.
Sgt Geddes heard the gunfire and explosions and immediately responded amid the chaos of a ferocious battle, leading a twelve-man team in Jackal armoured vehicles.
According to his citation, Sgt Geddes 'breathed fire into the spirit of his men' - despite being wounded in the knee when one of his vehicles was hit by a rocket-propelled grenade. He successfully extracted his men before joining recently-arrived reinforcements to re-engage with the enemy.
An extract of the citation for Sgt Geddes, who is only the second member of the RAF to receive the MC for action in Afghanistan, reads:
Despite being wounded, he insisted on leading the assaulting troops to the enemy position and immediately found himself back in the thick of the action, directing and guiding his men in pressing home the attack, neutralising the five insurgents.
Immediately upon securing this location, he regrouped his men to continue to fight through enemy positions north towards the US Marine Corps Harrier operating area, which was ablaze.
It was not until first light on 15 September, when the airfield had been secured, that Geddes was extracted to medical attention and even then, only because he was ordered to by the squadron commander.
As well as recognition of outstanding gallantry, the Operational Awards List also includes honours for meritorious service.
"They deserve our gratitude and respect."
Secretary of State for Defence Philip Hammond said:
In a changing world, the bravery and commitment to duty of our servicemen and women remains unswerving. Whether fighting for our security on operations abroad or rescuing mountaineers and sailors within the British Isles, they deserve our gratitude and respect.
I hope that the awards announced today go some way to underlining how much this country values the efforts and sacrifices of our Armed Forces.
Published 22 March 2013