News story
Middle East Respiratory Syndrome Coronavirus (MERS-CoV) update – December 2013
PHE continues to monitor and assess the developments in the Middle East and those countries where new cases of MERS-CoV have emerged.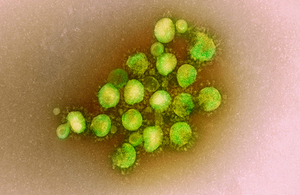 Public Health England (PHE) continues to liaise closely with our international colleagues to assess whether our recommendations need to change.
On Tuesday, 17 December 2013, The Lancet Infectious Diseases published the findings from research using gene-sequencing techniques that showed that 3 camels from a site where 2 humans contracted MERS-CoV were infected with the virus. While this is indicative of a recent outbreak affecting both humans and camels, it is not possible to say whether the human cases were infected by the camels or vice versa, or even if a third source was responsible. More studies are needed to shed light on any animal-human links, as exposure to animals has only been documented for a limited number of human MERS-CoV cases.
MERS-CoV is a new type of coronavirus, first identified in a Middle Eastern national in 2012. A genetically very similar strain was identified shortly after this in a patient from the Middle East by the PHE virus reference laboratories in Colindale. The virus identified in the UK was fully sequenced and detailed analysis indicates that the nearest relatives are bat coronaviruses.
Since only a relatively small number of cases have been reported, there is still limited information on how it is spread, the range of illness it can cause and the source of the infection.
Limited person-to-person transmission has been reported but there is no evidence of sustained person-to-person transmission.
Although sporadic cases continue to be reported from the Middle East, no new cases of MERS-CoV have been detected in the UK since February 2013 and there is currently no substantial change to PHE's risk assessment.
The risk of UK residents contracting infection in the UK remains very low. The risk to UK residents travelling to Middle Eastern countries may be slightly higher than within the UK, but is still very low.
In light of the possibility of animal to human transmission, travellers to the Middle East at high risk of severe disease due to MERS-CoV (such as immunosuppressed individuals and those with underlying respiratory or cardiac conditions) should avoid farms or barns, in areas where the virus is known to be potentially circulating.
If visiting a farm or a barn, all travellers should adhere to general hygiene measures, such as regular hand washing before and after touching animals, avoiding contact with sick animals and ensuring good personal and food hygiene practices.
Published 18 December 2013