Michael Gove responds to the Daily Telegraph investigation
Education Secretary Michael Gove: Our exams system needs fundamental reform.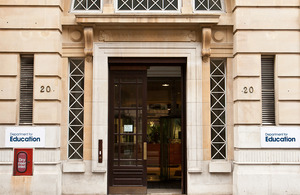 Responding to the Daily Telegraph's investigation Education Secretary Michael Gove said:
Our exams system needs fundamental reform. Today's revelations confirm that the current system is discredited. I congratulate the Daily Telegraph on their investigative reporting which is in the finest traditions of public interest journalism.
Last week, Glenys Stacey the new Chief Executive of the exams regulator Ofqual agreed plans with my department to investigate exam boards' behaviour. Today's reports confirm the vital importance of that work being speedy, authoritative and extensive.
I have asked Glenys Stacey to investigate the specific concerns identified by the Telegraph, to examine every aspect of the exam boards' conduct which gives rise to concern and to report back to me within two weeks with her conclusions and recommendations for further action.
As I have always maintained, it is crucial our exams hold their own with the best in the world. We will take whatever action is necessary to restore faith in our exam system. Nothing is off the table.
Notes to editors
Two months ago Michael Gove warned the awarding bodies that he would take a very severe view of any suggestion they were dumbing-down standards in search of market share:
…[It's] important to recognise that no matter how gifted, effective or assertive that particular body is, the responsibility for maintaining standards, and indeed the responsibility for raising standards, rests on all of us. It's important that collectively we recognise that exam boards and awarding bodies, in the natural and healthy desire to be the best as an exam board, don't succumb to the commercial temptation to elbow others out of the way, by saying to schools and to others "we provide an easier route to more passes than others." I'm sure that would be a temptation that would never be felt in any breast in this room, but it's important that that temptation, whilst it exists, is resisted. If it isn't, then action might need to be taken.
Michael Gove speech to Ofqual Summit, 13 October 2011.
Just last week the Department for Education agreed with Ofqual plans to scrutinise the exams market and exam boards' behaviour.
Letter from Glenys Stacey of Ofqual to Nick Gibb on 28th November 2011.
Response from Nick Gibb to Glenys Stacey of Ofqual on 29th November 2011.
DfE media enquiries
Central newsdesk - for journalists 020 7783 8300
Published 8 December 2011