Michael Gove outlines process for setting up free schools
Details on the process to follow to set up a free school and information on how free schools will be funded.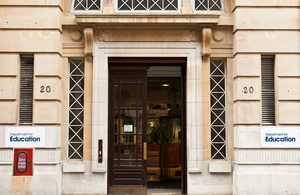 Education Secretary Michael Gove has today outlined the process for allowing teachers, charities and parents to set up new schools - free schools - in response to parental demand. Free schools are independent state schools run by teachers not bureaucrats or politicians and accountable to parents.
The government has already set out plans to give teachers the option to take on greater professional freedoms. Today's announcement will see the government harnessing the passion and innovation of teachers even further by allowing them to set up schools for the first time.
Education Secretary Michael Gove has today:
set out the process for how groups can start new schools and published a proposal form for groups to fill out
stated the government's commitment to making it easier to secure sites for new schools. This will include allowing a wider range of sites, including residential and commercial property, to be used as schools without the need for 'change of use' consent. There will also be an extension of powers to protect existing schools' sites, to make sure they are kept available for use by new schools where there is demand
reallocated £50 million of funding from the Harnessing Technology Grant to create a Standards and Diversity Fund. This will provide capital funding for free schools up to 31 March 2011. Funding for free schools will be a top priority for the Department for Education in the forthcoming Spending Review.
written to the New Schools Network to establish a formal relationship and to offer a £500,000 of initial funding to help make sure groups across the country get the support they need to start forming schools. The New Schools Network will act as the first point of contact for all groups who wish to start schools and will provide them with information as they go through the process and prepare their proposals.
Education Secretary Michael Gove said:
The most important element of a great education is the quality of teaching and free schools will enable excellent teachers to create new schools and improve standards for all children. This government believes that passionate teachers who want to make a real difference to education should have the opportunity. That's why I am today inviting groups to complete a proposal form and enter a process to set up new free schools.
Hundreds of groups, from teachers themselves to charities such as the Sutton Trust, have expressed an interest in starting great new schools. Just like the successful charter schools in the US, supported across the political spectrum, these schools will have the freedom to innovate and respond directly to parents' needs. The new free schools will also be incentivised to concentrate on the poorest children by the introduction of this government's pupil premium which will see schools receiving extra funds for educating children from disadvantaged backgrounds.
In this country, too often the poorest children are left with the worst education while richer families can buy their way to quality education via private schools or expensive houses. By allowing new schools we will give all children access to the kind of education only the rich can afford - small schools with small class sizes, great teaching and strong discipline.
 Further information
To download the proposal form, read the full letter from the Department for Education to the New Schools Network. For more on the criteria and process for setting up a free school, see the free schools pages.
DfE enquiries
Central newsdesk - for journalists 020 7783 8300
General enquiries - for members of the public 0370 000 2288
Published 18 June 2010