World news story
Michael Bloomberg Receives Honorary Knighthood
Official ceremony follows 6 Oct. announcement that Bloomberg was to become honorary knight in recognition of contribution to UK-US relations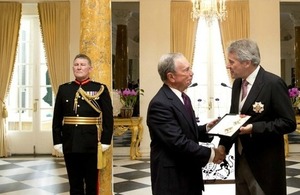 This afternoon, Michael R. Bloomberg was recognized as an Honorary Knight Commander of the Most Excellent Order of the British Empire (KBE) in an investiture ceremony at the British Ambassador's Residence.
The honorary knighthood insignia was presented to Mr Bloomberg by the British Ambassador Sir Peter Westmacott on behalf of Her Majesty Queen Elizabeth II. The official ceremony follows the October 6 announcement that Michael R. Bloomberg was to become an honorary knight in recognition of his prodigious entrepreneurial and philanthropic endeavours, and his contribution to UK-US relations.
Mr. Bloomberg is the founder of global business and financial information firm, Bloomberg L.P., was the 108th Mayor of the City of New York, and is a great supporter of the arts and education in the UK. By making London the European headquarters of Bloomberg L.P. since 1987 and the centre of his European philanthropic activity, he's created thousands of jobs and committed more than £42.4 million in philanthropic support to the UK.
British Ambassador to the United States Sir Peter Westmacott said:
In public service, business, and philanthropy, Michael Bloomberg has played a key role in forging transatlantic diplomatic, economic, and cultural ties. From Bloomberg LP's European headquarters in London to Tate Modern, the impact of Mr. Bloomberg's contributions is felt every day by Britons.

Throughout his career, he has maintained a focus on issues important to the UK including environmental sustainability, public health, education and cross-cultural understanding. His successes have not only earned him praise, but also the title of "a man ahead of his time.
Upon accepting the title, Mr. Bloomberg said:
I've been very lucky to have had the opportunity to help strengthen the special relationship that exists between the United States and Great Britain - and between New York and London. By working with Mayor Boris Johnson on economic and environmental issues, supporting British arts and educational organizations through philanthropy, and building a new European headquarters for our company in the heart of the City of London, I've developed a deep appreciation and respect for the British people - and this recognition is one of the great honors of my life.
Since opening Bloomberg L.P's office in London, Mr Bloomberg philanthropic work has developed UK talent and employment opportunities; made theatre and the arts more accessible for Londoners; and contributed to urban regeneration and environmental conservation. The Mayor of London Boris Johnson has cited Mr Bloomberg's efforts as Mayor of New York as inspiration for his 'Team London' programme, which aims to mobilise volunteers to improve life in the capital through activities that will reduce crime, increase opportunities for youth, build stronger neighbourhoods and make London cleaner and greener.
The UK honours system recognises exceptional achievement and service to the nation, and includes non-British nationals who receive 'Honorary' awards for their important contribution to British interests. All British honours are awarded on merit, and honorary awards are conferred by HM The Queen on the advice of the Foreign and Commonwealth Secretary. The Most Excellent Order of the British Empire was founded in 1917. Mr. Bloomberg may forthwith put "KBE" after his name if he wishes.
Published 9 April 2015