World news story
Media Freedom for a Better Future in Kazakhstan
Speaking ahead of the 3rd May World Press Freedom Day, British Chargé d'Affaires to Kazakhstan emphasises the importance of freedom of expression for democratic development.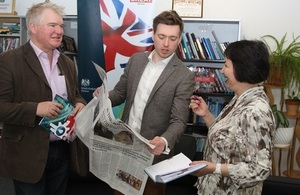 Speaking ahead of the 3rd May, British Chargé d'Affaires, Hugh Philpott, said:
On this World Press Freedom Day it is important to remember that freedom of expression is fundamental to building democracy. Citizens must be allowed to discuss and debate issues, to challenge their governments and make informed decisions.

We have a long tradition of this in the UK. It is important that journalists, bloggers, media organisations and individuals are allowed to operate and express themselves freely and safely and within international standards. All governments need to respond to legitimate aspirations with reform not repression. Encouraging an open and effective press serves to improve the environment for long-term social, political and economic stability.
Projects in the sphere of Freedom of Expression, supported by the British Embassy Astana Kazakhstan:
21 August 2013 – Training for media-activists
14 November 2013 – Training Course for Journalists, media lawyers and media NGOs on protecting mass media interests in Kazakhstan
28 February 2014 – Conference on Freedom of Expression in Kazakhstan
Further information:
Follow us on Facebook and Twitter to learn more about our projects.
Published 2 May 2014