Press release
Massive boost to British industry in biggest ever petrochemical project
UK Export Finance has announced that it will guarantee $700 million of finance for UK exports to a petrochemical facility in Saudi Arabia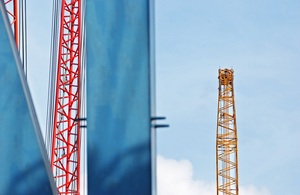 In a massive boost to British businesses, the UK's export credit agency, UK Export Finance (UKEF), has announced that it will guarantee $700 million (£450 million) of finance to British companies bidding for contracts on a new $19 billion (£12 billion) petrochemical facility in Saudi Arabia.
This unprecedented finance support package will enable UK exporters to bid for key contracts for the Sadara Project, the largest petrochemical facility ever built in a single phase.
Backed by the UK Government, the support UKEF is providing is the biggest project financing facility in the agency's history, and forms part of a large package of credit provided by a host of export credit agencies from around the world. This support will allow British firms to increase their presence in Saudi Arabia.
Three British companies working in engineering, procurement and construction - Jacobs, Fluor and Foster Wheeler - have already secured contracts which will benefit from financing under the facility.
Exporting is one of the Government's priorities for returning the economy to strong and sustainable growth, and it has set an ambitious target of doubling the value of UK exports to £1 trillion by 2020.
Lord Green said:
The Sadara project affords export opportunities to British businesses and I am pleased that UKEF support is making the difference.
Britain is a world-leader with immense expertise in the engineering, procurement and construction sectors so I am not surprised to see British firms playing a leading role in this project.
Acting Chief Executive, David Havelock, said:
This transaction is the biggest project financing in our history and the result of many years hard work by staff at UKEF. We have been pleased to work closely on this prestigious project with such high quality sponsors.
UKEF has a full range of financial products to support all sizes of exporters and sectors whether in relation to major projects such as Sadara or SMEs looking to the potential for exporting for the first time.
The Sadara project is co-sponsored by Saudi Aramco and Dow Chemical Company. Once complete, the complex, which will include 26 manufacturing units, a mixed-feed steam cracker and an aromatics plant, will represent the largest petrochemical facility ever built in a single phase.
The project, in Jubail Industrial City II in eastern Saudi Arabia, will produce performance and value-added chemicals, as well as plastics for use in the energy, transportation, construction, electrical, and electronics sectors.
Media enquiries: Julia Beck, Media Relations Manager
Notes to Editors
UK Export Finance is the UK's export credit agency. It complements the private market by providing assistance to UK businesses, principally in the form of insurance to exporters and guarantees to banks. In doing so, it works with exporters, banks and project sponsors to support UK exports to, and investments in, markets across the world.
UKEF's support will be provided by means of a repayment guarantee on a project financing loan to the Sadara Chemical Company for which Standard Chartered Bank will act as agent bank and for which the lending syndicate comprises JP Morgan Chase Bank N.A., Mizuho Corporate Bank Ltd, Standard Chartered Bank, Sumitomo Mitsui Banking Corporation, The Bank of Tokyo-Mitsubishi UFJ, Ltd and HSBC Bank USA National Association.
The UKEF-supported loan, the largest single limited recourse project financing UKEF has ever supported, forms part of a large debt package for the project provided by a number of Export Credit Agencies (ECAs), official Saudi financing institutions (SIDF and PIF), international and local commercial banks and the commercial Sukuk market. Other participating ECAs are US Ex-Im, K-Exim, K-sure, Hermes, FIEM and Coface.
A project financing facility is one where the loan to the project is repaid primarily from the cashflow it earns. The project's assets, rights and interests are held as collateral by the lenders.
In 2012-13, UKEF provided £4.3 billion worth of support to UK exporters, up from £2.3 billion in 2011-12, and the highest level since 2000-01.
UKEF published its 2012-13 Annual Report and Accounts on Thursday 20 June.
UKEF support is not limited to guarantees and insurance policies. UKEF can also provide advice and assistance through its regional Export Finance Advisers on trade finance issues to companies of all sizes.
For more information on UKEF products and services contact one of its network of Regional Export Advisers, details are available here or speak to UKEF's Customer Service Team (telephone: 020 7271 8010, e-mail: customerservice@ukef.gsi.gov.uk).
Further advice on exporting and overseas opportunities is also available through UK Trade & Investment's network of International Trade Advisers.
The Prime Minister launched the Government's 'Exporting for Growth' challenge last year and the Government has now set an ambitious goal to increase exports to £1 trillion per annum by 2020.
Published 21 June 2013