Marking International Day Against Homophobia and Transphobia
Foreign Office Minister Jeremy Browne and International Development Minister Stephen O'Brien have spoken ahead of International Day Against Homophobia and Transphobia.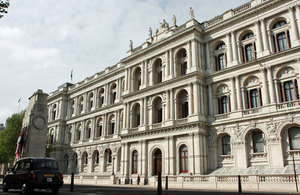 "It is sadly the case that in many countries Lesbian, Gay, Bisexual and Transgender people continue to suffer brutal violence and discrimination. These people are not making a political statement, or asking for special treatment, they just want to be free to be who they are and to love who they choose.
These simple demands are not Western impositions but universal human rights we should all be able to take for granted. Yet in over 70 countries consensual same-sex relations continue to be criminalised. In some, sexual relations between consenting adults are a crime punishable by the death penalty. We strongly oppose any criminalisation of same-sex relations.
As we celebrate the International Day Against Homophobia and Transphobia, we make it crystal clear that we will always stand with those calling for an end to this hateful discrimination and support them in their fight against inequality and injustice. The international community must address all forms of discrimination and violence against all people, including on the basis of sexual orientation or gender identity, and promote respect for diversity."
Published 16 May 2012