Press release
Mark Hodgkinson appointed Interim Chief Executive of the Homes and Communities Agency
Mark Hodgkinson has been appointed as Interim Chief Executive and Accounting Officer of the Agency.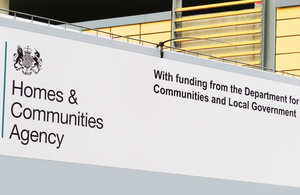 Chairman of the Homes and Communities Agency (HCA), Kevin Parry, today (8 April 2016) announced that Mark Hodgkinson, an experienced interim CEO, has been appointed as Interim Chief Executive and Accounting Officer of the Agency.
Mark has a strong commercial and financial background with extensive strategic and general management experience, particularly in organisations driving change in a growth environment.
Kevin Parry, Chairman of the HCA, said:
I am delighted to have found someone of Mark's background to lead, on an interim basis, the HCA through a period of growth and change. As the government's primary housing delivery agency, Mark will focus on structuring the Agency to be well organised to play its very major role in contributing to the dual ambitions of 1 million new homes and the doubling of first time buyers.

Andrew Rose has provided strong leadership in his time as Chief Executive particularly setting up the investment arm of the Agency. I'd like to thank Andrew for his hard work over the last 3 years and wish him well in the future.
Mark Hodgkinson said:
The HCA has an enviable reputation built on strong commercial, social and regulatory expertise, and above all a track record of delivery. I am excited by the opportunity to lead the Agency through this period of growth and change.
The recruitment of a permanent HCA Chief Executive will commence in the coming months.
Further information
The Homes and Communities Agency is the single, national housing and regeneration delivery agency for England, and is the Regulator of Social Housing Providers. Our vision is to:
create opportunity for people to live in homes they can afford in places they want to live, by enabling local authorities and communities to deliver the ambition they have for their own areas
undertake robust economic regulation that maintains lender confidence and protects the taxpayer
The Homes and Communities Agency's regulatory role is enshrined in legislation through the Localism Act 2011, which along with new directions issued to the Regulator by the secretary of State in November 2011, and the Regulatory Framework sets out the way in which social housing providers are regulated.
Mark Hodgkinson's previous experience in the commercial sector includes: retail (Asda, Wyevale Garden Centres and HMV); healthcare (Brighterkind, Four Seasons); entertainment (EMI); and financial services (Virgin Money).
Published 8 April 2016