Press release
Mark Field visits Cambodia for government and civil society talks
The Minister of State for Asia and the Pacific is in Cambodia for meetings with the government and members of the private sector and civil society.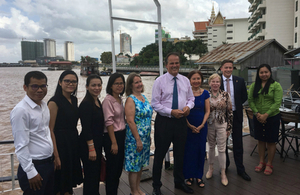 Mark Field, UK Minister of State for Asia and the Pacific, is visiting Cambodia today (22 August) for meetings with the Cambodian government and members of civil society and the private sector.
During calls with the Prime Minister, Deputy Prime Minister, Foreign Minister and Education Minister, Mr Field will discuss the recent national election and bilateral ties between the UK and Cambodia.
Speaking ahead of his visit Minister Mark Field said:
I have made clear the UK's view that the Cambodian national elections were neither fair nor credible.

I will hold frank discussions with the Cambodian Prime Minister to urge the government to lift restrictions on political debate and media freedom, and restore the conditions for a proper, functioning democracy.
The Minister will also visit the Halo Trust Cambodia HQ in Siem Reap to meet the dedicated Cambodian de-mining teams, who with UK funding, have released over 70 square kilometres of land over the last 3 years, directly benefitting more than 185,000 Cambodians.
Mr Field's visit to Cambodia is part of a 6-country tour of Southeast Asia that also includes Indonesia, the Philippines, Brunei, Thailand and Laos.
Further information
Published 22 August 2018