News story
Maritime minister sets sail for maritime skills week
John Hayes launches a campaign to raise the profile of the UK's world class maritime sector.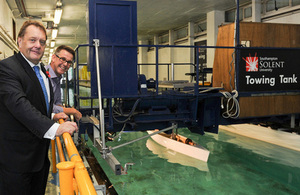 Shipping Minister John Hayes today (3 November 2014) launched a campaign to raise the profile of the UK's world class maritime sector to a new generation of highly-skilled seafarers and maritime operators.
The minister flew the flag for the UK's Maritime Education and Skills Week during his visit to Southampton Solent University and Warsash Maritime Academy. He saw the state-of-the-art facilities available to UK and international students studying for careers in the maritime sector.
This is one of several events throughout the week to celebrate the maritime industry, which will also include the launch of 'Open for maritime skills', a new resource produced by the Department for Transport in partnership with Maritime UK. It highlights the diverse career opportunities available across the maritime sector, from shipping and ports to professional maritime business services.
John Hayes said:
Britain is a leader in the nautical world and the maritime sector brings more than £8 billion to our shores every year.

The Maritime Education and Skills Week is a fantastic opportunity to showcase the amazing career and education opportunities available in the UK.

I am proud of the UK's maritime history and I want to ensure our maritime future is as great as our maritime past – this week the government and industry is standing together to ensure we attract the talented seafarers and port operators of the future.
The minister also today met Merchant Navy officer cadets who have benefited from the government's Support for Maritime Training (SMarT) funding, which helps to cover the cost of their training. Last year the government increased the SMarT budget to £15 million per year, which has helped existing seafarers access further professional training.
Later in the week the minister will meet with ship operators and maritime training providers at the UK Chamber of Shipping, and will also visit London Nautical School, Mersey Maritime College and Cammell Laird Shipyard in Liverpool.
Maritime media enquiries
Press enquiries 020 7944 3021
Out of hours 020 7944 4292
Switchboard 0300 330 3000
Published 3 November 2014