World news story
Magna Carta comes to Malta
The GREAT Britain campaign is bringing Magna Carta to Malta during the Commonwealth Heads of Government Meeting in Valetta.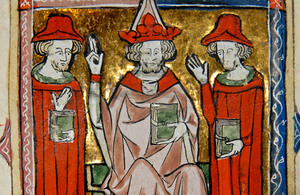 As part of an ambitious global tour to celebrate the 800th anniversary of Magna Carta, a 1217 edition of Magna Carta and the only surviving King's Writ from Runnymede will be exhibited at the National Library of Malta.
The free public exhibition will be on Saturday 28 and Sunday 29 November 2015.
Hereford Cathedral's historic treasures will be in good company, as the National Library is home to a younger sibling, the Maltese Magna Carta known as Magna Carta Libertatis. This Royal Charter was granted to the Maltese in 1428 by Alfonso V of Aragon, affirmed the rights of the Maltese nation.
These historic documents will sit together for a limited time only, with thanks to the GREAT Britain campaign, Hereford Cathedral and the generous support of British Airways.
All visitors are welcome, and invited to see this unprecedented exhibition of two nations' Magna Cartas.
Venue: National Library of Malta, 36 Old Treasury Street, Valletta VLT 1410
Time and Date: Saturday 28 November 2015 08:00 – 18:00 and Sunday 29 November 2015 09:00 – 17:00
Admission: Free
Visitors will be asked to present an identification document at the reception desk
About Magna Carta & Magna Carta Libertatis
Magna Carta was an attempted truce in June 1215 between King John of England and rebel Barons, who were fed up with his reign of high taxation, disregard for justice and failed foreign wars. Magna Carta made the King subject to the law and established rules for administering justice.
Magna Carta is a cornerstone of the British constitution, but has also become a powerful symbol of democracy around the world. It is the foundation for the rule of law in modern society and fair justice across international domains.
Since the sealing of Magna Carta in 1215, it has inspired or been cited in many later laws, constitutions or declaration of rights around the world. Over the last eight centuries it has directly influenced legislation such as the American Declaration of Independence (1776) and the United Nations' Universal Declaration of Human Rights (1948).
Magna Carta continues to influence matters of public interest, such as the right to silence for people accused of a crime and the right to a fair trial. Its future is just as important – Magna Carta's chief principles champion the possibility of a stable, legal constitution for nations old and new, and for trade between them.
Magna Carta Libertatis was created on 20 June 1428 by King Alfonso, to extend the rights of the Maltese people and protect them from cruel and unjust future rulers.
This was in direct response to the events earlier that decade where the King of Aragon gave Malta to Don Antonio de Cardona in 1421. He sub-let the region to Don Gonsalvo de Monroy, a cruel leader who treated the Maltese people very badly, driving them to rebellion in 1425.
About the Magna Carta 800th Global Tour
The Magna Carta 800th Global Tour will cover 65,000 miles across 3 continents and is delivered in partnership with the GREAT Britain campaign, Hereford Cathedral and British Airways.
Useful links:
The Magna Carta 800th Global Tour in pictures
Hereford Cathedral's role in the Magna Carta 800th Global Tour
Prime Minister David Cameron's Speech for the 800th Anniversary of Magna Carta
Follow @HFDMagnaCarta and the #MagnaCartaTour on Twitter.
Published 23 November 2015