Press release
Lord Grade announced as interim Chair of new Fundraising Regulator
Lord Grade will be the interim Chair of the new Charity Fundraising Regulator.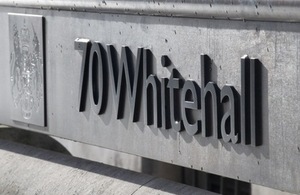 Lord Grade will be responsible for overseeing the setting up of the new fundraising body to restore public trust and confidence in charity fundraising following Sir Stuart Etherington's review into fundraising practices.
Lord Grade will drive forward the new self-regulatory system recommended in the recent Etherington Review after the initial finding of unacceptable fundraising practices in May.
The Chair will lead the new body and system. He will work quickly to appoint a board and chief executive, and start working with charities to build the tough new self-regulatory system.
Lord Grade has been active in a number of organisations, including the Science Museum, Band Aid, and the Samaritans. He has a wealth of experience leading large organisations and will bring this expertise to the role. He has had a long and distinguished career in broadcasting, encompassing London Weekend Television, the BBC, ITV, as well as over 9 years as Chief Executive of Channel Four Television.
Minister for Civil Society, Rob Wilson, said:
The new chair has a vital role in restoring public trust in the charity sector. I welcome Lord Grade into this role as someone with the stature and experience to set up the new regulator and bring people together to deliver the necessary reform. I have every confidence and expectation that all the recommendations laid out in Sir Stuart Etherington's review of fundraising will be implemented in full.
Michael Grade, interim Chair of the Charity Fundraising Regulator, said:
The people of Britain are amongst the most charitable on earth. Their continuing generosity depends on their trust in the charities who fundraise, which is why I intend to work with charities to ensure that this trust is not abused.
Notes for editors
The role of interim chair is for at least 4 days per month and will be remunerated at £500 per day. The role is for a 12 month period, with the possibility of reappointment.
Published 18 November 2015