News story
Lord Deighton calls on the UK to be HS2-ready
Initial report HS2 Growth Taskforce: the challenge released asking town and cities to be 'HS2-ready'.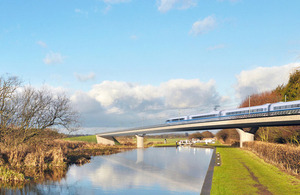 Towns and cities across the country need to act now to become 'HS2-ready', according to an initial report by the independent Growth Taskforce led by former Olympics Chief Lord Deighton.
HS2 Growth Taskforce: the challenge makes clear that HS2 is a once in a generation chance to change the face of the country and is far more than just a transport scheme. It recognises that government, local areas and businesses, will need to work together to make the opportunity a reality and squeeze every possible benefit from the vital project.
Set up by the Secretary of State for Transport in June, the HS2 Growth Taskforce's initial report sets out the key areas on which its final report will focus. It will provide recommendations to government early next year.
Commercial Secretary and HS2 Growth Taskforce Chair Lord Deighton said:
HS2 is set to be the biggest construction project in Europe and it's vital we harness the huge potential that it offers the UK. It's not just a transport project and it's not just for one central government department to deliver in isolation.

In our report next year, the Taskforce will challenge Whitehall and local government leaders to step up and play their part in this transformative scheme. Growth and regeneration won't just be handed to us on a plate - we need to think big, we need to plan ahead and most importantly we need to work together if we are to really make the most of this once in a generation opportunity.
Cities could start to benefit long before the first HS2 train arrives by planning ahead and securing wider investment. The Taskforce is clear that attracting investment early and redeveloping areas now will help reap bigger rewards.
In Japan high speed rail stations have helped boost employment by between 16% and 34%. Closer to home redevelopment of King's Cross Station has seen public investment of £500 million attract £2.2 billion of private sector investment. Combined with the effects of HS1 and St Pancras International, the area as a whole is set to see 22,000 new jobs created by 2020.
Transport Secretary Patrick McLoughlin said:
I am extremely grateful to Lord Deighton and the Taskforce for their work and I am confident it will help ensure we maximise the benefits of HS2 right across Britain.

With more than 95% of Crossrail's budget to date being spent in the UK, I am determined that HS2 will replicate and build on this success for British businesses.

It is a challenging project and as I have said many times before the easy thing would be to do nothing. But this government is committed to HS2 because it is vital to Britain's future. I look forward to receiving the final report and recommendations from the Taskforce early next year.
Following successful meetings in Birmingham and Manchester, the Taskforce will continue to meet with city leaders and businesses across the country to inform its work, before submitting its final report to government early next year.
HS2 and major projects media enquiries
Press enquiries 020 7944 3021
Out of hours 020 7944 4292
Switchboard 0300 330 3000
Published 23 October 2013