Press release
Olympics chief to ensure HS2 strikes gold for GB growth
Lord Deighton to lead HS2 taskforce.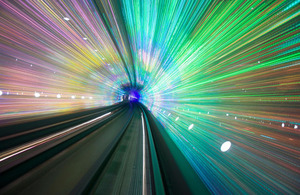 HS2, the government's engine for growth, received a major boost today (27 June 2013) with the appointment of former LOCOG boss, Lord Deighton, to lead a taskforce to maximise the economic benefits – including job creation – generated by the crucial scheme.
Lord Deighton - the Commercial Secretary to the Treasury - has worked extensively in the private sector with a hugely successful track record in business and infrastructure delivery, including last year's spectacular Olympic and Paralympic Games.
His appointment comes the day after the first HS2 bill received a successful vote in Parliament and following the Treasury's commitment to boost infrastructure spending across the UK.
Transport Secretary, Patrick McLoughlin, said:
HS2 provides a once in a generation opportunity to drive growth, generate jobs, and secure our country's future prosperity. We need to squeeze every possible benefit from this vital project, leaving no stone unturned.

That is why we are setting up a Growth Taskforce and that is why I have asked Lord Deighton, the man who delivered the Olympics, to lead it.

I recognise HS2 is a huge project and I am determined to get maximum payback from the investment. This is about far more than just a new railway and, through the work of the Taskforce, we will be able to identify many of the wider economic benefits it can deliver.
Commercial Secretary to the Treasury, Lord Deighton, said:
I know from experience that big projects can bring big rewards – boosting business, inspiring innovation and creating jobs. HS2 is of vital importance to this country's growth and will help us compete in the global race.

I am very pleased to take on the role of Chair of the taskforce, which will have a relentless focus on unlocking the huge economic potential of this historic project. I look forward to getting on with the job.
Chief executive of Manchester City Council, Sir Howard Bernstein, said:
The creation of this Taskforce is another critical step towards realising the very considerable benefits of HS2 to the businesses and communities it brings closer together.

Cutting journey times and increasing rail capacity between our major cities and their surrounding areas, and to mainland Europe, has the potential to be a real game-changer for national and regional economies. This is a complex project but also an enormous opportunity so it's essential we all work together to ensure the full potential benefits are realised.
Looking at both British and international experiences of driving growth from major infrastructure investments, the Taskforce will set out options and make recommendations on:
maximising regional and national growth opportunities
getting British industry and the UK workforce ready to respond to the vast array of opportunities HS2 will provide - 70% of jobs created by HS2 are expected to be outside London
ensuring HS2 delivers as a catalyst for economic growth and regeneration around the stations and surrounding communities
ensuring job opportunities from HS2 can be maximised and advising what contribution HS2 can make to the skills and training agenda
maximising the potential to use the buying power of HS2 to improve supply chains and manufacturing capacity across the UK
It will also engage heavily with the core cities and local enterprise partnerships to ensure the benefits of HS2 are felt far beyond the station cities.
The HS2 Growth Taskforce will publish an initial report later this year and will submit its final report to government early next year. This will then drive forward a programme of work with the core cities to ensure that the vast array of economic opportunities presented by HS2 are maximised.
Notes to editors
HS2 will generate over £50 billion of benefits for the UK economy along with 100,000 jobs – core cities group predict it will actually underpin over 400,000 jobs.
Even before it is open, some estimates suggest HS2 will add £4.2 billion to the economy.
HS2 will act as a catalyst to city centre regeneration and major development schemes – just look at what has happened around high speed stations in France or at Kings Cross.
The command paper High Speed Rail investing in Britain's future – phase two: the route to Leeds, Manchester and beyond was published on 28 January 2013.
HS2 will generate jobs and rebalance the country's economy, acting as a catalyst for Britain's future prosperity and creating 100,000 jobs.
Key facts and figures:
8 of Britain's largest 10 cities with be linked by HS2
overall 18 cities will be linked by HS2 services from 2033
up to 18 trains per hour can run in each direction
trains will run at 225 miles per hour, with the potential to increase this to 250 miles per hour
The terms of reference for the group are available.
The High Speed Rail (Preparation) Bill (paving Bill) successfully passed the second reading in the Commons with MPs voting 330 to 27 in favour of the Bill.
HS2 and major projects media enquiries
Press enquiries 020 7944 3021
Out of hours 020 7944 4292
Switchboard 0300 330 3000
Published 27 June 2013