Press release
Lord Ahmad visit builds trade ties between UK and Burma
Transport Minister Lord Ahmad visits Burma to discuss transport infrastructure, announce UK Export Finance cover of US$300 million and launch Business is Great Campaign in Burma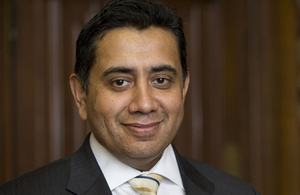 UK Transport Minister Lord Ahmad visited Burma this week to identify business opportunities for British companies in the transport infrastructure sector. During the visit Lord Ahmad announced US$300 million UK Export Finance (UKEF) cover to help UK companies export to Burma.
Lord Ahmad said:
I am delighted to have the opportunity to visit Burma at such an exciting time both politically and economically.

As new opportunities emerge, I am thrilled to be able to announce that UK Export Finance (UKEF) has increased its cover capacity to US$300 million to help UK companies export to Burma. This is important both for British companies and for Burma's economic development.
UKEF, the UK's export credit agency, will make the cover available to UK exporters seeking to compete for business in Burma as the country re-engages with the international community and accelerates its infrastructure development. UKEF will also be able to offer support directly to the Burmese Government in the form of direct lending linked to deals where there is notable UK content.
UKEF is working closely with UK Trade & Investment as well as the Government of Burma to identify export opportunities, particularly related to infrastructure. A number of British companies have already approached UKEF about potential projects in Burma.
As part of the two-day visit to Rangoon, Lord Ahmad met Rangoon's Mayor, U Hla Myint to discuss the development of Rangoon. He met the local and international business community, and development partners engaged in infrastructure development. He spoke at an event hosted by Rolls Royce Plc and UKTI that highlighted Rolls-Royce's ability to deliver excellence to Burmese companies and at a seminar jointly hosted by UK Trade & Investment, the Union of Myanmar Federation of Chambers of Commerce and Industry (UMFCCI) and BLP Law. During the seminar, Lord Ahmad set out the UK's expertise in the transport infrastructure sector and some of the steps the UK government has made in terms of prioritisation and long-term planning.
Following the event at UMFCCI Lord Ahmad took the opportunity to launch UKTI Burma's Business is GREAT campaign. As part of this campaign the UK Government provides a free matching service to help local companies connect with 20,000 British suppliers, offering a wide range of high quality products and services. The service is open to any business at any time. By registering companies are able to outline the products or services they need. The UK Government will then match them with the right British businesses.
Health, technology and creative companies that register their details before 15 April 2016 will not only benefit from being linked up with leading British business, but will also be in with the chance to attend the International Festival of Business 2016 in Liverpool as part of a bespoke trade delegation.
On launching this campaign Lord Ahmad said:
This is an exciting opportunity for local businesses to find what they need from world class British companies. I very much hope it will help further increase the trading relationship between the UK and Burma which is already heading in the right direction".
Media enquiries: Claire Lynch, Media Relations Officer
Published 19 February 2016