Press release
Lord Ahmad sparks debate on integration in Manchester
Lord Ahmad led a panel in a frank and honest exchange of opinions on a wide range of issues.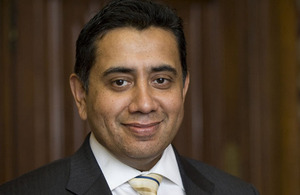 Manchester citizens on Thursday (11 December 2014) took up the opportunity to quiz Communities Minister Lord (Tariq) Ahmad of Wimbledon on the government's commitment to tackling hate crime and building stronger communities at the government's integrated Communities Roadshow in Manchester.
At an interactive session held at the British Muslim Cultural Heritage Centre, Lord Ahmad led a panel in a frank and honest exchange of opinions on a wide range of issues, including:
the impact of negative attitudes towards British Muslims
the reporting of religious hate crime
the role of young people and women in society
foreign policy
challenging extremism
Lord Ahmad said:
Everyone has the right to feel safe in the places where they live and work, free from discrimination and prejudice, but sadly this is not always the case.

It's been highly valuable hearing the concerns directly from the people of Manchester and to be able to highlight what this government is doing to help communities tackle hatred and ensure that everyone is treated with the dignity they deserve.

I will ensure that what I've heard is in the forefront of our minds as we continue to tackle this issue head on so we can make a real and lasting difference and confront hatred wherever and whenever it occurs.
Over the course of this year, ministers have held integration 'roadshows' across the country – in Manchester, Birmingham, Blackburn, Bradford, Leicester, Luton, Bristol and Oxford – attended by diverse audiences including community and faith leaders, university students, academics and members of local police forces.
On yesterday's panel, the minister was joined by Iftikhar Awan from the independent cross-government Anti-Muslim Hatred Working Group, Nazir Afzal from the Crown Prosecution Service, Carolyn Jones from the Altrincham Interfaith Group and Paul Giannasi the Head of the Hate Crime Programme at the Ministry of Justice.
Further Information
The Anti-Muslim Hatred Working Group is chaired by the Department for Communities and Local Government and meets quarterly. It is comprised of officials from across government and independent members, including academics and members of the Muslim community.
The Department for Communities and Local Government supports projects that promote integration and address all forms of hatred. These include:
investing £6 million for new innovative English language classes to reach some of the most isolated people in communities
over £8 million for Near Neighbours programme – bringing together diverse faith communities
supported Big Iftar 2014: encouraging over 100 British mosques, other places of worship and community groups to host non-Muslim guests to share the Iftar meal
sponsoring demonstration projects to challenge prejudice – like Anne Frank Trust UK, educating 35,000 young people by July 2015.
commemorating the First World War in communities by providing paving stones for Victoria Cross recipients and funding for their grave stones to be repaired
investing £10 million with Youth United to establish over 600 new scout, guides and cadets groups.
Our integration policy aims to break down barriers, emphasising local action and bringing people together. This includes funding projects to support tackling intolerance and extremism.
Office address and general enquiries
2 Marsham Street
London
SW1P 4DF
Contact form http://forms.communiti...
General enquiries: please use this number if you are a member of the public 030 3444 0000
Published 15 December 2014