Press release
Long-term partnership to help UK compete in £1 trillion global nuclear industry
Government publishes industrial strategy to enable the UK to seize the opportunities for economic growth in the nuclear industry.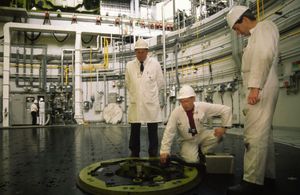 Industrial strategy to make UK leading civil nuclear energy nation
New build programme alone could generate up to 40,000 new jobs
An industrial strategy, developed by government and industry, has been published today to enable the UK to seize the opportunities for economic growth in the nuclear industry. It covers the whole of the nuclear market – new build, waste management and decommissioning, fuel cycle services, operations and maintenance.
This follows the launch of the aerospace strategy last week and is the next step in the government's industrial strategy. A plan for oil and gas will be published later this week with strategies for all eleven key sectors being completed in the coming months to secure sustainable future growth in the economy.
Over the next two decades it is forecast that globally there will be £930 billion investment in building new reactors and £250 billion in decommissioning those that are coming off line. The nuclear new build programme in the UK alone could generate up to 40,000 jobs in the sector at its peak. The nuclear industrial strategy sets out the basis for a long-term partnership between government and industry to exploit those opportunities.
The strategy is being overseen by a Nuclear Industry Council, co-chaired by ministers and industry. It includes a wide range of commitments, including:
£15 million for a new world class National Nuclear Users Facility for universities and companies carrying out research into nuclear technology. The facility will have centres at the National Nuclear Laboratory at Sellafield, the Culham Centre for Fusion Energy in Oxfordshire and the University of Manchester's Dalton Cumbrian Facility.
36 nuclear research and development projects have won £18 million worth of support from a Technology Strategy Board competition, which will leverage in a further £13 million of private sector investment. This includes consortium lead by OC Robotics in Bristol who have received almost £6 million to develop their LaserSnake technology – a robot controlled laser cutting tool that can be used as part of nuclear decommissioning projects.
£12.5 million to join the Jules Horowitz Test Reactor programme which is being constructed in France. The reactor will provide the UK with a valuable radiation testing facility to develop future advance nuclear fuels.
The government spent £66 million in 2011 on nuclear research and development and will keep under review its level of future expenditure. It is keen to explore opportunities to back future reactor designs, including the feasibility of launching a Small Modular Reactor (SMR) R&D programme to ensure that the UK is a key partner of any new reactor design for the global market.
Government is making some changes to the role and organisation of the National Nuclear Laboratory (NNL) so that it plays a more central role in advising government on nuclear matters and in strategic research projects.
Nuclear new build in the UK is forecast to generate up to 40,000 jobs in the sector at its peak, but employers are currently reporting skills shortages – particularly in engineering. Tackling the skills gaps will be one of the actions to be taken forward through a focussed Skills Delivery Plan led by the Nuclear Energy Skills Alliance.
UKTI will develop a strategy aimed at attracting inward investment as well as promoting export opportunities.
The results of a major review into research and development capability in the UK have also been published today. The review has helped to shape the industrial strategy and was carried out by government, industry and academia, assisted by an Advisory Board chaired by Sir John Beddington, the government's Chief Scientific Advisor. It was instigated in response to a House of Lords inquiry.
The Board's recommendations recognise that nuclear power will continue to play an important role in the UK to 2050 and beyond and that a wide range of technologies may be required to meet the challenges of an expanded demand for nuclear power. Therefore, the Board recommended concrete action in a number of areas to ensure that technological options for nuclear power generation are kept open in the future. The industrial strategy forms a major part of the government's response to these recommendations.
Business Secretary Vince Cable said:
The nuclear industry presents significant multi billion pound long-term opportunities for UK companies and for thousands of high value jobs. We have worked with industry on a plan for the future to ensure we are well placed to grasp those opportunities.
We have some of the finest workers, research facilities and academics in the world. But we need to sharpen those competitive advantages to become a top table nuclear nation.
Energy Secretary Edward Davey said:
Nuclear and other forms of low carbon power mean highly-skilled jobs, sustainable growth, and the lasting legacy of a UK supply chain.
We need all our energy options in play in the fight against climate change, and to keep the lights on in a way that is affordable to consumers. Not just this decade, but to 2050 and beyond.
Nuclear Industry Association Chairman, Lord Hutton said:
I applaud government's firm commitment to the vital role that nuclear will continue to play in delivering reliable, industrial-scale low carbon electricity to power the nation.
I warmly welcome this Nuclear Industrial Strategy as evidence of the fruitful partnership between government and industry in setting the direction of travel for the UK to achieve its ambitions to be a leading nuclear nation.
Having that clarity of vision and determination to succeed will help bring substantial rewards and benefits to the country's energy, industrial and economic future, and provide the platform from which to showcase the industry's qualities and capabilities to the rest of the world.
Sir John Beddington, the government's Chief Scientific Advisor said:
I am convinced that nuclear power will play a pivotal role in the UK's energy future. The requirement for nuclear power may exceed current plans for new build, perhaps substantially. It's therefore crucial that we keep a wide range of technological options open so that we are able to meet this potential demand in a safe and sustainable manner. Today's announcements on R&D and on skills are the first steps in doing exactly that.
One of the conclusions of my work last year was that important research in the UK could be hindered through lack of access to the right facilities. I am therefore delighted that significant funding has been allocated today to provide those facilities in the future.
The sector strategy is a key component of the government's work on industrial strategy. The aim is to give businesses, investors and the public greater long-term certainty and to maximise the opportunities for creating growth and new jobs.
Planning consent was given last week for construction of the first new nuclear power station in the UK since 1995. The planned multi-billion pound project at Hinkley Point, Somerset – to be operated by NNB Generation - will generate enough low carbon electricity to power the equivalent of five million households, making it one of the largest power stations in the UK.
Notes to editors:
1.The nuclear industrial strategy can be found here: https://www.gov.uk/government/organisations/department-for-business-innovation-skills/series/nuclear-industrial-strategy
2.The government's industrial strategy is about looking to the future, presenting a long-term, whole of government approach to supporting British business, giving them the confidence they need to invest, hire staff and grow. Long-term strategies are being developed in partnership with industry in key sectors including oil & gas, education and the information economy – which will be published in the coming months.
3.The £12.5m funding commitment to join the Jules Horowitz Test Reactor programme was announced on 12 March. Full details at https://www.gov.uk/government/news/uk-at-forefront-of-european-nuclear-expansion
4.The NNL's mission is being re-stated to give greater emphasis to supporting UK national programmes across the civil nuclear sector, particularly decommissioning, but also future fuel cycle, new build, maintenance and helping to safely extend operating lifetimes. Effectively this will enable NNL to act more as a National Lab for nuclear serving government and industry's strategic interests – whilst also having the ability to continue important commercial work for domestic and overseas clients.
In addition, the NNL will also take on new responsibility for hosting the Nuclear Innovation Research Office (NIRO) which will develop and take forward the work of the newly created Nuclear Innovation Research Advisory Board (NIRAB). The NIRO will be run separately to NNL's commercial business directorates and the government hopes that industry will wish to second its own people into the office for significant periods of time to work alongside government's own NNL staff.
5.Nuclear New Build (NNB) Generation is a subsidiary of EDF Energy, which is tasked with the delivery of the new generation of nuclear plant in line with EDF's global programme of producing safe, affordable, reliable, low-carbon production of electricity in the UK. The government is in on-going discussions with NNB Generation over the financial terms of the Hinkley Point C project. Ministers have made clear that any deal will need to be interest of the consumer. Any agreement reached will be laid before Parliament, and will include details of the Strike Price.
6.The government's economic policy objective is to achieve 'strong, sustainable and balanced growth that is more evenly shared across the country and between industries'. It set four ambitions in the 'Plan for Growth' (PDF 1.7MB), published at Budget 2011:
to create the most competitive tax system in the G20
to make the UK the best place in Europe to start, finance and grow a business
to encourage investment and exports as a route to a more balanced economy
to create a more educated workforce that is the most flexible in Europe.
Work is underway across government to achieve these ambitions, including progress on more than 250 measures as part of the Growth Review. Developing an Industrial Strategy gives new impetus to this work by providing businesses, investors and the public with more clarity about the long-term direction in which the government wants the economy to travel.
Published 26 March 2013