News story
Local Better Regulation Office to be reviewed
The local regulation of businesses by environmental health, fire safety, licensing and trading standards services can place unnecessary burdens…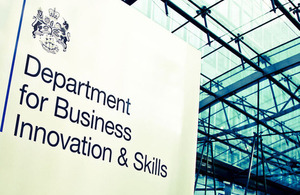 The local regulation of businesses by environmental health, fire safety, licensing and trading standards services can place unnecessary burdens on them, hampering economic growth. The LBRO was set up to address this issue, combining an independent, expert perspective on local regulation with the statutory powers required to drive progress.
The review team will engage with LBRO's key stakeholders to examine how successful LBRO has been in achieving its objectives of creating the conditions for regulatory reform at the local level, and delivering consistency for business, primarily through the Primary Authority scheme
This review is being held to coincide with similar work taking place across government departments. The review team will present their recommendations to Ministers in September 2010.
Notes to Editors
Business minister Mark Prisk announced that a review would be taking place in an answer to a Parliamentary Question on 21 July 2010.

The background to the review is the Government's commitment to "reduce the number and cost of quangos" as well as to examine the purpose of and continued need for the functions performed by the LBRO and to consider the options for future delivery.

The review will be led by BIS and BRE staff, with input from stakeholders.

The Local Better Regulation Office (LBRO) helps business to save money and prosper by ensuring their voice is heard in the creation and local delivery of the rules and regulations they're required to follow. LBRO creates the conditions for cutting red tape for UK business and providing the right level of targeted protection for consumers, workers and the environment. Its area of responsibility covers environmental health, trading standards, fire safety and licensing. Following the commencement of the Regulatory Enforcement and Sanctions Act 2008 on 1 October 2008, LBRO operates as an executive non-departmental public body, accountable to the Department for Business, Innovation and Skills through the Better Regulation Executive. LBRO is governed by an independent Board, has a staff of around 25 and is based in central Birmingham. Their remit covers the whole of the UK and they liaise closely with the devolved administrations to ensure their work in Wales, Scotland and Northern Ireland is appropriate. For further information please visit www.lbro.org.uk

The Better Regulation Executive, at the Department for Business Innovation and Skills, is responsible for implementing the regulation agenda, working across government to improve the way new laws and regulations are created, reduce unnecessary red tape and provide the best environment for business to start up, flourish and grow.

For further information on the review please contact the Better Regulation Executive on 0207 215 5371 / 0348.

BIS' online newsroom contains the latest press notices, speeches, as well as video and images for download. It also features an up to date list of BIS press office contacts. See [http://www.bis.gov.uk/newsroom](http://www.bis.gov.uk/newsroom) for more information.
Notes to Editors
Contact Information
Name BIS Press Office Job Title
Division COI Phone
Fax
Mobile
Email NDS.BIS@coi.gsi.gov.uk
Published 11 August 2010