Press release
Local areas get their say on Sunday trading
The government has today launched a consultation on plans to give local areas the power to allow large shops to open for longer on Sundays.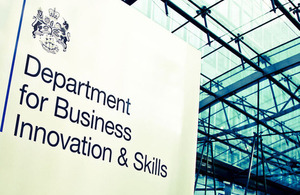 The reforms would give metro mayors and local authorities the power to determine Sunday trading rules that reflect the needs of local people and allow shops and high streets to stay open longer and compete with online retailers.
Local authorities would have the discretion to zone which part of their local authority area would benefit from the longer hours, allowing them to boost town centres and high streets.
Communities Minister Brandon Lewis said:
This government is determined to devolve powers previously held in Whitehall to local people. That's why we want to give local leaders the power to decide whether Sunday trading is right for their area, and to give their retailers the option to stay open for longer.

We have already taken a range of measures to boost the Great British high street and now we are giving local areas another tool to encourage shoppers to the town centre and get shops to grow and thrive.
The government has a wide package of policies to support high streets - from cuts in business rates for small shops to stopping over-zealous parking practices.
Business Minister Anna Soubry said:
Modern Sunday trading laws have the potential to create thousands of jobs across the country and help British businesses to thrive. Today's (5 August 2015) consultation gives business, shoppers and interested groups the chance to have their say on Sunday trading.
The consultation will look at 2 proposals on devolving Sunday trading, devolving powers on Sunday trading law to elected metro mayors and / or local authorities. Government is calling for businesses, shoppers and other interested groups to respond to the consultation on the proposed changes that has launched today.
The existing Sunday trading laws were introduced more than 20 years ago before high-street shops faced competition from online retailers. The law currently prevents large stores from opening for more than 6 hours. Small shops covering less than 3,000 sq ft can open all day.
The government is committed to giving the UK's major cities the power to compete for international tourism while increasing consumer choice. Paris has recently extended Sunday trading opening hours in areas of international tourism, and Dubai and New York shops open into the evening 7 days a week.
Group Chief Executive, Dixons Carphone Sebastian James said:
We welcome the proposals to allow local people to determine whether they should be able to shop for longer on Sundays. We live or die by whether we deliver for our customers, and if a community would like more time at the weekend to choose a new TV, phone, fridge or computer, then it will be good for our business to be allowed to offer that choice. We will need to see how communities respond to this ability and how other retailers react before we can work out our detailed plans, but, on the whole, more flexibility for businesses and customers is a good thing.
Boyd J Douglas-Davies, CEO, Hillview Garden Centres Ltd said:
Our customers want to be able to shop on a Sunday at a time that suits them and their lifestyle. At both ends of the day we have to deal with frustrated visitors at all of our centres. In the morning the 'early-birds' want to get on with the gardening and later in the day, visitors are forced to leave the centre at a time that feels like it is only mid-afternoon. Sunday is by far and away the busiest day of the week – this demonstrates that customers want to shop on Sundays.
Notes to Editors
The consultation document is 'Devolving Sunday trading laws' and also on Citizen Space
The consultation is open until 16 September 2015 and applies to England and Wales.
Research by the New West End Company has shown that extending Sunday trading by 2 hours in London alone would create nearly 3,000 jobs, and generate more than £200 million a year in extra income.
There will be no changes to the restrictions on trading on Christmas Day or Easter Sunday.
Published 5 August 2015