Press release
Life science sector boosted by enterprise zones
Funding for Harlow Enterprise Zone will get construction work started on state-of-the-art science park.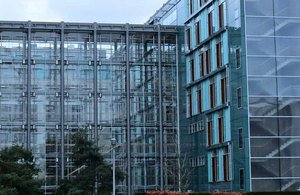 More than £5 million of public funding for Harlow Enterprise Zone will get construction work started on a state-of-the-art science park particularly suited for life science and biotechnology firms.
A £2.5 million loan from the government's Local Infrastructure Fund will be matched by a loan from Harlow Council. This funding will leverage in further private finance to provide facilities that will be suitable for a range of companies including IT and health firms.
Enterprise zones are boosting the UK's pharmaceutical and life science sectors and attracting an increasing number of firms keen to make use of the benefits that the zones bring.
The Harlow zone will house the Anglia Ruskin MedTech Campus which will provide one of the world's largest health innovation spaces for companies of all sizes. The campus will be suitable for a wide range of firms, from start-ups to large corporations.
Local Growth Minister Kris Hopkins said:
This country is internationally renowned for its expertise in life sciences and biotechnology and the government is determined to support these important sectors everywhere possible.

Enterprise zones are proving to be great news for these sectors by bringing complementary companies together in an environment where they can work closely with each other and thrive.

This investment in Harlow is showing that our long term economic plan to secure a better future by spreading businesses, jobs and skills across the country is working.
The UK has one of the strongest and most productive life sciences sectors in the world with more than 4,500 companies, employing around 167,000 people and a total annual turnover of over £50 billion.
The government set up the 24 zones as a 25-year project to rebalance the economy and create future centres of excellence in key industries such as pharmaceutical, offshore energy and automotive. Since they opened in April 2012, the zones have already attracted 290 businesses, secured £1.2 billion of private sector investment and created thousands of local jobs.
Alongside Harlow, several other zones are attracting life science companies including those in Kent and Nottingham.
Harlow Enterprise Zone, Essex
The investment in Harlow enables infrastructure work to begin on the 20-acre enterprise zone site. This will be backed up by major investment from the private sector.
This funding combined with the developer's private finance will see the demolition of some unusable buildings, the refurbishment of others and bring in new power and telecommunications supplies. The funding will then clear the way for the large-scale investment of a new science park and data centre campus.
Construction work will start later this year, heralding the renewal of an important site in the town that will create new jobs and restore its former glory by creating a world class twenty-first century business park.
John Keddie, Vice-Chairman of the Harlow Enterprise Zone Board, said:
The enterprise zone is now making great progress and we will see significant activity on the site over the next year, with a new road connection starting in November. This announcement of infrastructure funding will start the transformation of the Nortel site, once at the vanguard of innovation with the invention of fibre optic cable.

We also look forward to welcoming Anglia Ruskin University's Med Tech Campus to the enterprise zone since this will provide a strong interface between business innovation and academic expertise.
Essex County Council and Anglia Ruskin University are finalising details of a funding package to enable the development of a new Medical Technology Innovation Centre at the Harlow Enterprise Zone London Road site. The innovation centre would be the location for start-ups, entrepreneurs and SMEs (small and medium enterprises) as well as international companies in the initial stages of locating to the MedTech Campus.
MediCity, Nottingham Enterprise Zone
MediCity is the UK's rapidly-growing health, beauty and wellness innovation hub. Based within the Nottingham Enterprise Zone on the Boots site in Beeston, MediCity is a collaboration between Boots and BioCity, the UK's leading life sciences incubation business.
The hub has attracted 20 companies since February this year and already hosts events and conferences for the UK med tech and healthcare sectors. Start-up and established companies are benefitting from BioCity's proven track record in developing the right ecosystem for companies in the sector to thrive, and from the innovation and product development knowledge of Boots UK.
The companies are working in a number of health-related areas including clinical diagnostics, human performance, body-care, apps for remote health monitoring, water purification and human regenerative medicine.
David Browning, Director of MediCity says:
We are attracting ambitious entrepreneurs from across the UK to Nottingham which indicates an eagerness to become part of a thriving innovative community. Several firms have already found opportunities to collaborate and to share expertise, and leading charities such as Arthritis Research UK have chosen MediCity to host their conferences and events. This way we bring like-minded people together to tackle some of the most pressing health and wellness issues.
Discovery Park, Kent
Discovery Park is one of the largest business parks in Europe and its specialist focus on science and technology has enabled it to create a unique platform for emerging and established companies in the fields of biotechnology; life science; pharmaceuticals; research and development; science and technology.
Occupying the former Pfizer site, the zone has been host to 5 decades of groundbreaking pharmaceutical research and development. Iconic drugs such as Viagra and Diflucan were discovered and developed here, and Pfizer retains a significant presence on the park.
The zone's extensive world-class laboratory facilities are designed around the concept of 'integrated research' for chemical, pharmaceutical and analytical research that will help meet today's and tomorrow's therapeutic and manufacturing needs.
More than 80 businesses have joined the zone's pharmaceutical innovation and business community.
Benefits of enterprise zones
Financial benefits
Firms can claim up to 100% business rates relief (worth up to £275,000) over a 5-year period. In some enterprise zones there are also sites available where you can claim Enhanced Capital Allowances for investment in plant and machinery. Many enterprise zones provide even more benefits, such as lease payment holidays, low-rent incubator units and development funding.
The Chancellor announced at Budget 2014 that the deadlines for accessing business rate discounts and enhanced capital allowances on enterprise zones would be extended by 3 years. This means that businesses have until March 2018 to locate onto an enterprise zone to be able to access business rate discounts, which could be worth £275,000 per business over 5 years. On sites where enhanced capital allowances are available, businesses now have until March 2020 to make a qualifying investment, and can then write off up to £100 million against corporation tax.
An on-site customer base
Many of the enterprise zones are encouraging businesses in the same sector to cluster together, for mutual benefit. Some focus on automotive - others on energy or pharmaceuticals and healthcare. Major businesses are specifically choosing enterprise zones that can provide them with the goods and services they need.
A straightforward planning process
Enterprise zones have a can-do attitude to planning through the use of simplified planning procedures - for example, Local Development Orders grant automatic planning permission for specified types of development.
Business-ready infrastructure
Enterprise zones are developed with business in mind - this means they benefit from features like superfast broadband and easy access to motorways, rail, airports or ports.
Further information
The UK life sciences industry will play a significant role in building a sustainable economic recovery and, to unlock this potential, the government launched its strategy for UK life sciences (part of the industrial strategy) in December 2011. The strategy is getting success by harnessing and building on the UK's unique strengths.
The strategy for UK life sciences one year on report was published in December 2012.
The UK has one of the world's strongest and most productive life science economies. In total, the 4 sectors generate a turnover of over £50 billion and employ 167,000 people in over 4,500 companies. The UK pharmaceutical sector has 387 companies, employing just under 70,000 people and a combined turnover of £30 billion. It attracts near £5 billion annually in research and design funding and makes an important contribution to the UK's trade balance with exports having grown by 11% a year between 2000 and 2011.
The medical technology and medical biotechnology sectors represent over 3700 companies employing 78,000 people with an annual turnover of around £14.3 billion. The UK market for non-healthcare biotechnology is predicted to grow to £4 billion - £12 billion by 2025.
The UK life sciences industry is renowned for its creativity, exceptional research base and outstanding talent, boasting a history of discovery and a reputation for turning innovative ideas into trusted healthcare solutions.
Supporting life sciences businesses in the UK are the country's world-leading colleges and universities, which attract and produce some of the most skilled and creative talent available globally.
Office address and general enquiries
2 Marsham Street
London
SW1P 4DF
Contact form http://forms.communiti...
General enquiries: please use this number if you are a member of the public 030 3444 0000
Published 2 July 2014