Libya, Syria and the Middle East on the agenda for EU Foreign Ministers meeting
Foreign Secretary William Hague attended an informal meeting of EU Ministers of Foreign Affairs - the "Gymnich" on 2-3 September in Sopot, Poland.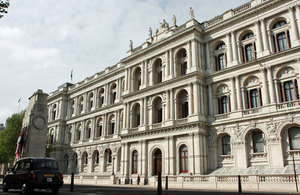 Libya was high on the agenda. Speaking to Sky News while in Sopot, the Foreign Secretary talked about the situation on the outskirts of Sirte, saying that the National Transitional Council are extremely conscious of the need to avoid civilian casualties:
"There are many places that they have gained militarily over the course of the conflict, particularly in the last two weeks: the towns on the outskirts of Tripoli and then Tripoli itself - very importantly, the actual capital city. And they have done that without causing civilian casualties.
"The threat to civilian life, the indiscriminate attacks on civilians or the murder of prisoners has always come, so far as we can see, from the remnants of the Qadhafi regime and I'm sure that will continue to be the case."
He said that the National Transitional Council want to avoid an unnecessary battle:
"That is why they have been negotiating with the tribes around Sirte. That is why they - and all of us - would much prefer the remaining forces loyal to the remnants of the regime to lay down their arms. They are in a fairly hopeless military position so it is time for the conflict to stop."
Syria and the Middle East Peace Process were also on the agenda, as well as the EU's Eastern Partnership, and EU initiatives towards the southern neighbourhood.
Foreign ministers of EU candidate countries also attended parts of the meeting.
The Gymnich format derives its name from a castle in Western Germany where the first informal meeting of EU Ministers was held in 1974. The informality of the meeting refers to the fact that while engaging in a free and in-depth discussion on a limited number of topics, the Ministers do not draw up any formal, written conclusions.
Published 3 September 2011