Press release
Liberation of Sinjar from ISIL terrorists
Tobias Ellwood, Minister for the Middle East welcomes the liberation of Sinjar and reiterates support for the Government of Iraq in the fight against ISIL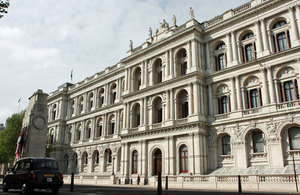 Minister Ellwood said:
This is a significant day; Sinjar has been liberated after its violent and unwanted occupation by the terrorist group ISIL. I commend Kurdish and Yezidi fighters for their determined and sustained efforts to reclaim the town. For ISIL, this means yet another military defeat in Iraq. They have now lost more than 30 percent of the territory they once held there.

The Coalition's strategy to defeat ISIL is succeeding. Sinjar is free because Royal Air Force and other Coalition forces provided vital air support for local, legitimate ground forces, focused on defeating ISIL and minimising civilian casualties. The UK remains steadfast in its support of the Government of Iraq and the Iraqi people in their fight against ISIL.
Further information
Published 13 November 2015