Press release
Less smoking, more joking: Stoptober campaign launched
Stoptober: the 28 day stop smoking challenge was launched this week with the support of top British comedians.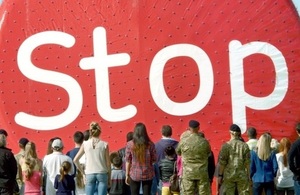 British comedians, including Paddy McGuinness, Al Murray and Simon Brodkin, appeared in the TV launch and are touring around the country until 11 October to encourage people to sign up.
Evidence shows that if a smoker can go 28 days without a cigarette, they are 5 times more likely to stay permanently smoke free. Quitting smoking can be a difficult process but successfully quitting has significant health, financial and social benefits.
Chief Medical Officer Dame Sally Davies said:
Far from making you more depressed, stressed or anxious, there is evidence to suggest that you are likely to feel more happy and relaxed in the long term by quitting smoking. And with this year's line-up of comedians we are asking anyone who has considered quitting to join the thousands of others and take up the challenge and give Stoptober a go – stop smoking and start smiling.
Secretary of State for Health, Jeremy Hunt, said:
The campaign's theme this year is comedy but sadly lung cancer is no laughing matter and it remains the UK's biggest cancer killer.

The good news is that the survival rate is at the highest ever level and the smoking prevalence rate is lower than ever before. But we need to continue with the battle and that's why this campaign is so important.
The 2013 campaign, which is led by Public Health England, saw 250,000 people take part and 65% of those who took part successfully quit for 28 days. Stoptober provides smokers with a range of free support including a new stop smoking pack, a mobile phone app, text messages, quitting advice and tips for coping, as well as the encouragement and support from thousands of people quitting together through Stoptober social media channels.
Sign up for the Stoptober challenge now.
Facts about smoking
Over 570,000 people have died in England in the last 8 years from a smoking related condition – that is 195 people each day but successfully quitting has significant health benefits straight away:
within 20 minutes your blood pressure and pulse rate return to normal
after 1 year the risk of dying from heart disease is reduced by half
within 2 years the risk of stroke is reduced to half and within 5 years it will be the same as a non-smoker
within 10 years your risk of developing lung cancer falls to half that of a smoker
after stopping for 15 years your risk of heart disease is similar to that of someone who has never smoked
Published 12 September 2014