Press release
Launch of new prize to drive forward innovation in dementia care
A brand new prize fund to drive forward innovation in dementia care was last night launched by the NHS in partnership with Janssen Healthcare Innovation.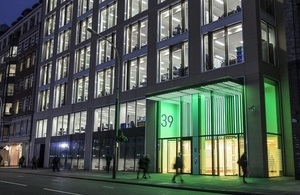 Healthcare organisations and professionals caring for people with dementia are invited to help shape a new NHS Innovation Challenge by identifying the most significant issues they face on a day to day basis.
Applicants will be encouraged to respond to the challenge with new and forward thinking ideas and initiatives to help reshape and improve the way dementia care is delivered in order to deliver the best possible care.
The best entries will be awarded a share of a prize fund total of £150,000, funded by Janssen Healthcare Innovation. An expert panel comprising of a mix of champions of innovation in the health service, including NHS clinicians and managers, and innovation leaders from academia, industry and other sectors will be responsible for assessing submissions to the challenge and recommending the winner(s).  
There are now 800,000 people with dementia in theUKand there are  estimated to be hundreds of thousands of family and friends acting as primary carers. The cost of caring for people with dementia is £23 billion a year and it is predicted to grow to £27 billion by 2018.
Jeremy Hunt, Secretary of State for Health said: 
It's no secret that dementia is one of the biggest challenges that we currently face in the UK.
Those who deal directly with people with dementia and those who are living with it themselves have unique insight into the condition. This insight could help to transform the type of care currently provided to this growing group.
Innovation sits at the very heart of the way the health service works. Projects that foster innovation play an important role in driving forward progress and I look forward to hearing the ideas in response to the dementia research challenge.
Marco Mohwinckel, Partner, Janssen Healthcare Innovation said: 
Janssen Healthcare Innovation is committed to exploring and developing novel ways of delivering healthcare to improve patient outcomes, particularly in areas of significant need such as dementia.
We are delighted to be the first industry partner to support the NHS in these important innovation challenges. We hope this initiative will help identify forward-thinking solutions to help transform care for people with dementia and better support their caregivers.
Janssen, a pharmaceutical company within the Johnson & Johnson family, also has a long-standing and ongoing commitment to neuroscience. We are dedicated to addressing and solving some of the most important unmet needs and improving patient outcomes in this field.
At the ceremony last night, winners of the last set of Innovation Challenge Prizes were presented with awards in recognition of their work to tackle some of the biggest health problems of our time. These include an immediate response vehicle to help elderly people who have fallen in their homes; training for health and beauty staff to spot the early signs of skin cancer; a new premature birth test and a community matron helping homeless people to get access to the right kind of healthcare.
The NHS Innovation Challenge Prizes reward ideas that tackle big health and social care challenges facing the NHS now and in the future, encouraging the spread of new ideas and best practice to improve quality and safety for patients. 
There are also currently three new NHS Breakthrough Challenges in dementia, diabetes and stroke which are larger in scope and scale than the existing Innovation Challenges. Up to £1 million of prize money can be awarded for each of the NHS Breakthrough Challenges
Notes to editors
Submissions for ideas to help define the scope of the challenge close on 20 March 2013.
Case Studies from round three of the Innovation Challenge Prizes
Offering an immediate response to elderly people who have fallen in their homes - awarded £50,000
A pioneering new rapid response service has given vulnerable older people in theCambridgearea access to vital emergency services while allowing them to retain the independence of their home lives.
The Falls Partnership Vehicle, covering the City of Cambridge and South Cambridgeshire, is an immediate response service to people over 65 who have fallen in their homes and dialled 999. Around 800 people in the area have used the service since it was introduced 10 months ago and a wider uptake of the scheme has being touted due to the success inCambridge.
The team is able to investigate, diagnose and treat, and work collaboratively to allow patients to appropriately remain at their home. An advanced paramedic and an occupational therapist attend the callout, with a complete falls assessments being delivered at the scene - here both the paramedic and the therapist can deal with the patient's immediate care needs, and tailor a care package for their future needs.
A referral to other services then takes place as appropriate, such as therapy, specialist nursing, balance and strength programmes, or a falls clinics for example. The patient's GP is then informed and telephone advice is offered.
For more information contact: Lorna Marsh on 07921 029014 or email lorna.marsh@eastamb.nhs.uk
Health and beauty staff trained to spot the signs of skin cancer - highly commended
More than 50 beauty salons in the North West of England are training their staff to spot the first vital signs of skin cancer in their clients.
Working with Preston College, local hair and beauty salons, training assessors and hair and beauty students, programme leader Kerry Crooks has delivered skin cancer training sessions to highlight the specialist role hair and beauty professionals can play. Consultants are in the prime position to spot any changes to skin lesions on their clients and encourage clients to see their GP.
The project, supported nationally through the Melanoma Taskforce, is also developing a training module to go forward to a national qualification.
As a result of the training programme, several clients at salons have already been referred to clinicians and treated for skin cancer because of the training - in addition, two of the students at salons have also undergone surgical treatment for early skin cancer.
For more information contact: Janine Worthington on Janine.Worthington@lsccn.nhs.uk or call 01772 640036
Community matron helping rough sleepers to improve health and housing opportunities - awarded £75,000**
A community matron working in the community in Stoke onTrenthas had a significant impact on resolving the housing and health problems of rough sleepers in the area, with A&E admissions for homeless people in the area dropping by 95%.
For many homeless people, their only contact with the health service is through A&E as they are not registered with a GP. However, the community matron, working from a direct access hostel, was set up as an alternative health service contact who took appointments, with the help of charity workers from Brighter Futures. 
A&E attendances for the 21 studied homeless people in the year up to the project were 275, with most of these being alcohol related. After the first year of the Community Matron this reduced to 14 in a year. 
The community matron, as well as workers at the hostel support staff from Brighter Futures, the street sex workers team and the rough sleepers outreach team, are also able to direct homeless people to further services to help their wider physical, mental and social health including the alcohol liaison team at University Hospital of North Staffordshire.
Savings for these 21 people in the pilot group were estimated at £146,400 a year, with the cost of the community matron project being £75,000 per year, who also services a much wider group. The scheme could be easily replicated elsewhere.
For more information contact: Jessie Dickson on 0845 602 6772 or email Jessie.dickson@ssotp.nhs.uk
Simple test to help predict and prevent premature births - awarded £150,000
The risk of pregnant women giving birth early can be accurately measured with a simple cervical swab, according to research from Guy's and St Thomas' NHS Foundation Trust, funded by baby charity Tommy's and the Department of Health's Innovation Challenge Prize. This test will reduce distress for women who would otherwise have received unnecessary treatment.
The swab measures the level of a protein known as fetal fibronectin (fFN). If the protein leaks out of the womb into the cervix, the likelihood of premature labour is increased. fFN levels reliably indicate whether a woman is likely to give birth prematurely.
The new test accurately determines the level of risk and provides a definitive answer in 10 minutes.
An average saving of £1,800 exists for each test because many women didn't receive unnecessary treatment - whilst more importantly they all received more appropriate care. With nearly 60,000 premature births per year in theUK, the national uptake of this new test could lead to national NHS savings of over £100 million a year. 
For more information contact: Vicky Hartley, PR Manager at Tommy's, on 0207 398 3448 or email vhartley@tommys.org
Published 13 February 2013