News story
Latest Legionnaires' disease data published for England and Wales
Older people and people with an underlying health condition and smokers most at risk of infection.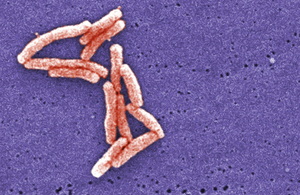 Data published today (22 July 2014) by Public Health England (PHE) has revealed that cases of Legionnaires' disease contracted both at home and abroad remain under the total seen in 2010.
In 2012, 306 confirmed cases were reported, down from 357 cases of the respiratory disease in 2010. Around 40% of confirmed cases in 2012 were associated with travel abroad, with the greatest number of cases seen in individuals travelling to Spain.
The incidence rate for England and Wales over the 3 year period (from 2010 to 2012) was 5.33 cases per million population (pmp). The peak incidence was in the areas covered by the East Midlands PHE Centre (7.72 pmp), the West Midlands (6.54 pmp) and Avon, Gloucestershire and Wiltshire PHE Centre (6.23 pmp).
Professor Nick Phin, head of Legionnaires' disease surveillance at PHE, said:
For most people, the risk of developing Legionnaires' disease is very low, but if infection occurs it can lead to a severe pneumonia.

Legionnaires' disease is contracted by breathing in water containing the legionella bacteria making it vital that when cases are diagnosed, the likely source is identified quickly and control measures put in place so that the risk of further cases is reduced.

Health professionals should consider Legionnaires' disease as a possible diagnosis in returning travellers displaying pneumonia-like symptoms.
Legionnaires' disease usually affects older people, especially those with an existing health problem underlying. Almost 70% of the cases reported in 2011 were in people with an underlying health condition, including almost 30% in people with heart disease. Those who smoke or drink regularly are also at a greater risk of infection.
Symptoms can include cough, tiredness, fever, muscle aches, vomiting and general confusion and in the later stages shortness of breath. A high level of mortality remains among individuals diagnosed with Legionnaires' disease with no improvement over the period 2003 to 2012.
Legionnaires' disease is a severe but uncommon form of pneumonia associated with exposure to water systems (natural or man-made) containing legionella bacteria.
Published 22 July 2014