News story
Latest deployment of UK forces to Afghanistan announced
The next deployment of UK armed forces to Afghanistan is due to take place in June 2014, Defence Secretary Philip Hammond has announced.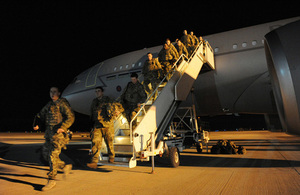 This week saw the UK's military headquarters in Helmand disbanded and the functions integrated into Regional Command (South West).
Around half of the units due to deploy in June will come under the command of a UK one-star within the United States Marine Corps commanded headquarters. The remainder will deploy elsewhere within Camp Bastion and in Kandahar and Kabul as part of the UK's overall contribution.
Members of the reserve forces will continue to deploy to Afghanistan as part of this integrated force.
This will be the final phase of the UK's combat operations in Afghanistan, known as Operation Herrick, which will come to an end on 31 December 2014.
The forces deploying include:
Elements of 20th Armoured Brigade Headquarters
Elements of 845 Naval Air Squadron
Elements of the Queen's Royal Hussars
Elements of 5th Regiment Royal Artillery
Elements of 39th Regiment Royal Artillery
Elements of 47th Regiment Royal Artillery
Elements of 35 Engineer Regiment
Elements of 42 Engineer Regiment (Geographic)
Elements of 10th Signal Regiment
Elements of 14th Signal Regiment (Electronic Warfare)
Elements of 15th Signal Regiment (Information Support)
Elements of 30th Signal Regiment
Elements of 3 Regiment Army Air Corps
Elements of 6 Regiment Royal Logistic Corps
Elements of 7 Regiment Royal Logistic Corps
Elements of 29 Regiment Royal Logistic Corps
1 Medical Regiment
3 Close Support Battalion Royal Electrical and Mechanical Engineers
Elements of 1st Regiment Royal Military Police
Elements of Close Protection Unit Royal Military Police
Elements of the Military Provost Staff
Elements of 1st Military Working Dog Regiment
Elements of 1 Military Intelligence Battalion
Elements of 2 Military Intelligence Battalion
Elements of 4 Military Intelligence Battalion
Elements of 7th Battalion The Rifles
Elements of 159 Supply Regiment Royal Logistic Corps
2 Operational Support Group Royal Logistic Corps
Elements of Headquarters Expeditionary Forces Institute and 148 (Expeditionary Forces Institute) Squadron Royal Logistic Corps
Number 2 Tactical Police Squadron, Royal Air Force
Elements of 47 Squadron, Royal Air Force
Elements of 30 Squadron, Royal Air Force
Elements of 5 (Army Cooperation) Squadron, Royal Air Force
Elements of 32 (The Royal) Squadron, Royal Air Force
Elements of 13 Squadron, Royal Air Force
Elements of 101 Squadron, Royal Air Force
Elements of 39 Squadron, Royal Air Force
Elements of 27 Squadron, Royal Air Force
Elements of 10 Squadron, Royal Air Force
Elements of 18 (B) Squadron, Royal Air Force
Elements of 51 Squadron, Royal Air Force
Elements of 99 Squadron, Royal Air Force
Elements of 33 (Engineering) Squadron, Royal Air Force
Elements of 90 Signals Unit, Royal Air Force
Elements of 1 Air Mobility Wing, Royal Air Force
Elements of 2 Mechanical Transport Squadron, Royal Air Force
Elements of Tactical Medical Wing, Royal Air Force
Elements of Tactical Supply Wing, Royal Air Force
Elements of Airport of Embarkation Wing, RAF Brize Norton
Elements of Base Support Wing, RAF Brize Norton
Elements of Engineering and Logistics Wing, RAF Brize Norton
Elements of Forward Engineering Wing, RAF Brize Norton
Elements of Operations Wing, RAF Brize Norton
Elements of Tornado Engineering Flight, RAF Marham
Elements of Engineering Logistics Wing, RAF Odiham
Elements of Joint Helicopter Support Squadron, RAF Odiham
Elements of Ministry of Defence Hospital Unit Northallerton
Elements of Ministry of Defence Hospital Unit Frimley Park
Elements of Ministry of Defence Hospital Unit Peterborough
Elements of Ministry of Defence Hospital Unit Portsmouth
Elements of Royal Centre for Defence Medicine
Published 3 April 2014