Landmark devolution bids submitted from right across the country
38 landmark devolution proposals put forward from cities, towns and counties across the UK this week.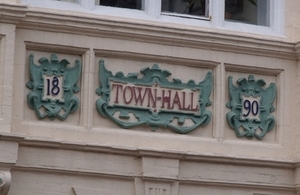 major step forward in plans to devolve powers from Whitehall and into the hands of local people and businesses
38 bids already received from major cities and regions from across the country
part of "one nation government's" plans to rebalance the economy and provide opportunity for all
The most radical shake up of local governance in a generation has taken a giant step forward this week with 38 landmark devolution proposals from cities, towns and counties across the United Kingdom being made to government.
Each area has submitted ambitious proposals to take control of how public money is spent in their local area, the Prime Minister announced today (11 September 2015).
Earlier this summer the Chancellor asked areas to put forward proposals to follow in the footsteps of Greater Manchester's ground-breaking devolution deal with government last year.
The volume of bids clearly demonstrates the significant appetite to be part of a devolution revolution across the country, with local leaders signing up in droves to the Chancellor's vision of an accountable elected mayor leading strong regional areas who look after their own affairs.
Bids have come in from the length and breadth of the country including Liverpool City Region, the North East, Gloucestershire and the West Midlands.
The 38 bids received ahead of the deadline last Friday include the application for powers in a wide range of spending areas including education, transport, healthcare, housing and business support.
Speaking today Prime Minister David Cameron said:
Spreading opportunity, increasing social mobility, helping people get on – these aims run through this government like letters through a stick of rock.

The best businesses would never shy away from allowing their customers to shape the way they improve their services. If we are bold enough, government can go one better by actually putting many of those services in the hands of local people. It is also a proven reality that money spent closer to people is often money spent wiser – so we can really deliver more for less.
Chancellor George Osborne said:
Earlier this summer I asked local leaders to come forward with their ideas to build on our radical devolution plans. We have had hugely ambitious proposals from all over the country showing that local areas are as enthusiastic as I am about shifting power out of Whitehall.

What we are delivering in the Northern Powerhouse through our ground-breaking deal with Greater Manchester illustrates what can be achieved by working together - the challenge is now to make this happen in other great cities.
Communities Secretary Greg Clark said:
This 'one nation government' is determined to ensure power is devolved from Whitehall to town halls, to put an end to the old north-south divide and rebalance our economy.

The sheer volume of bids we've received, from cities and counties, demonstrates how local leaders are embracing this opportunity to have a direct hand in shaping the future of their area, whether in skills, transport, housing or healthcare.

I look forward to us working with each of these areas in the coming weeks and months to turn their proposals into reality.
Successful future deals from the proposals announced today will be supported through the Cities and Local Government Devolution Bill currently passing through Parliament. The proposals will now be considered as part of the Spending Review process.
The Bill puts in place the legal framework across the country that will make it simpler for devolving more powers to more places and sets out far reaching powers to be devolved to Greater Manchester and for creating a city-wide elected metro mayor.
The full list of areas submitting proposals for devolution deals is below. It includes areas who have already agreed deals seeking further devolved powers. Besides the proposals listed below, government also received a number of other representations and letters of support related to devolution, all of which will be considered carefully.
| | |
| --- | --- |
| | Full list of devolution proposals received on 4 September |
| 1 | *Aberdeen |
| 2 | *Cardiff |
| 3 | Cheshire and Warrington |
| 4 | Cornwall |
| 5 | Cumbria |
| 6 | Dorset |
| 7 | 'D2N2' – Derbyshire, Derby, Nottinghamshire and Nottingham |
| 8 | *Edinburgh |
| 9 | Gloucestershire |
| 10 | Greater Brighton |
| 11 | Greater Essex |
| 12 | Greater Lincolnshire |
| 13 | Greater Manchester |
| 14 | Greater Yorkshire |
| 15 | Hampshire & Isle of Wight |
| 16 | Heart of the South West |
| 17 | Herefordshire |
| 18 | Hull, Yorkshire, Leeds City Region and the Northern Powerhouse |
| 19 | *Inverness & Highland City |
| 20 | Leeds City Region |
| 21 | Leicester and Leicestershire |
| 22 | Liverpool City Region |
| 23 | London |
| 24 | Norfolk |
| 25 | Northamptonshire |
| 26 | North East |
| 27 | Oxfordshire |
| 28 | Sheffield City Region |
| 29 | Surrey, West Sussex & East Sussex |
| 30 | Swindon |
| 31 | Suffolk |
| 32 | Tees Valley |
| 33 | Telford & Wrekin |
| 34 | West Midlands |
| 35 | West of England |
| 36 | Wiltshire |
| 37 | Worcestershire |
| 38 | York, North Yorkshire and East Riding |
*in devolved nations
Office address and general enquiries
2 Marsham Street
London
SW1P 4DF
Contact form https://forms.communit...
General enquiries: please use this number if you are a member of the public 030 3444 0000
If your enquiry is related to COVID-19 please check our guidance page first before you contact us - https://www.gov.uk/guidance/coronavirus-covid-19-guidance-for-local-government.

If you still need to contact us please use the contact form above to get in touch, because of coronavirus (COVID-19). If you send it by post it will not receive a reply within normal timescale.
Published 11 September 2015