Press release
Lancashire flag flying at Department for Communities and Local Government
The flag representing the historic Red Rose county of Lancashire has been hoisted above the department's offices to mark Lancashire Day.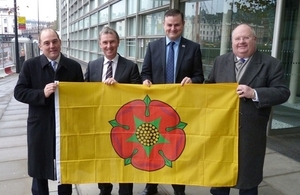 In the past, it has been known for many parts of Whitehall and municipal officialdom to shun or sideline historic counties, many of which date back over a thousand years of English history. However, the Local Government Secretary, has been clear that the government will seek to encourage the marking and continued use of such traditional county names and boundaries such as Lancashire.
Lancashire Day commemorates the day in 1295 when Lancashire sent its first representatives to Parliament by King Edward I of England to attend what later became known as the Model Parliament.
Lancashire Day was first observed in 1996 with the loyal toast to "The Queen, Duke of Lancaster", and is open to celebration from everywhere within the county. Many towns throughout the historic county host events on the day, most notably readings of the Lancashire Day Proclamation.
Eric Pickles said:
Despite being a proud Yorkshireman, I can still take pride in seeing the red rose of Lancashire flying outside my department.

Historic English counties like Lancashire are one of the oldest forms of local government in western Europe. Their roots run deep. And no amount of administrative reshuffling can delete these longstanding and cherished local identities.
Chris Dawson from the Friends of Real Lancashire said:
Successive governments have confirmed the boundaries of Lancashire, and we welcome their further confirmation by the new government, which demonstrates the valuable part that traditional counties play in modern life.

We hope that the flying of traditional county flags outside the department's office will lead to further measures to promote the identity of Britain's traditional counties. We welcome the flying of the Lancashire flag in celebration of Lancashire Day.
Further information
The government has amended the law to make it easier to fly local and traditional flags without a permit from the council. See Flying flags: a plain English guide.
More information on the event can be found on the Lancashire Day 2013 website.
To celebrate the important place counties play in the nation's cultural heritage, English county standards are flown alongside the Union Flag outside the Department's Eland House headquarters in Victoria.
Published 27 November 2013