Press release
Kris Hopkins sees government cash in action in Cornwall, Devon and Bristol
Housing and Local Growth Minister sees how the government's long-term economic plan is helping deliver new homes and jobs in the area.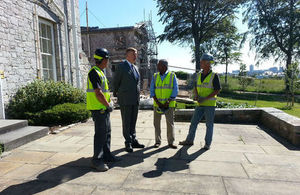 Housing and Local Growth Minister Kris Hopkins this week visited Cornwall, Devon and Bristol to see for himself how the government's long-term economic plan is helping deliver new homes and jobs in the area.
Since 2010, the government has invested billions of pounds to get Britain building, which has so far helped deliver 445,000 new homes across the country, including nearly 200,000 affordable homes, while last year planning permission was granted for a further 216,000 homes.
These visits covered housing developments ranging from affordable homes, homes 'back on site' that were previously stalled and those being built on formerly-used, surplus public sector land, as well as to sites being developed by local enterprise zones to deliver new jobs for the local community.
Kris Hopkins said:
Government funding is helping people across Bristol, Devon and Cornwall to deliver the homes and jobs their communities want.

I was delighted to meet people who are in work thanks to our investment, whether through the enterprise zone in Newquay, our Get Britain Building funding in Plymouth or our support for self-builders in Bristol.

Housing is a crucial part of our long-term economic plan, and it's working, with 445,000 new homes delivered since 2010. My visits have shown me how these efforts are delivering for people across this part of the country.
Regenerating Cornish communities
In Cornwall Kris Hopkins saw first-hand how government money can help individuals, business and communities at both ends of the spectrum.
The Newquay AeroHub is one of the 24 enterprise zones across the country. Businesses are choosing Newquay as their British base and winning new business in decommissioning aircraft as a result of the AeroHub being based in Newquay. There, the Minister officially opened modular building construction specialist, CIS UK Ltd's new facility at Aerohub, and discussed the company's ambitious growth plans.
He also met with Apple Aviation, which specialising in decommissioning aircraft. He was introduced to a number of apprentices drawn from their innovative training programme and watched Apple prepare for the first recycling of an aircraft in the hangar.
Mr Hopkins also visited Lostwithiel, a small rural community just outside Liskeard, where government funding has supported a small local business to build 32 much-needed new and affordable homes to this town helping towards the identified local housing need.
New homes built in Plymouth and Exeter
In Devon on his visit to the Mount Wise development in Plymouth, Kris Hopkins saw a larger regeneration of maritime buildings, on a site formerly owned by the Ministry of Defence. Work to build the next phase of 89 homes on phase 2 had stalled due a lack of finance available to support the project – but builders were back on site with thanks to government funding.
And at Cranbrook, a whole new community is being developed in a rural area which has benefitted from government funding to pay for roads, 2,380 new homes and related facilities. He met with the head teacher of the new primary school and construction workers building the new education campus which will cater for 1,000 pupils.
Bristol self-builders
West Street in Bristol hosted Kris Hopkins where government funding has helped a community help themselves with the first-of-a-kind 'train and build' project in the country. The brain child of Ken Hames, previously a Major in the Army, and Stella Clarke CBE, Chairman and founder member of the Community Self-Build Agency, it's built by ex-servicemen, for ex-servicemen in Bristol.
Office address and general enquiries
2 Marsham Street
London
SW1P 4DF
Contact form http://forms.communiti...
General enquiries: please use this number if you are a member of the public 030 3444 0000
Published 20 June 2014