Press release
Know your shopper's rights before you hit the Christmas sales
Before handing over your hard-earned cash in the sales, make sure you know your rights to a refund or exchange.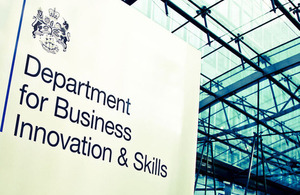 As Boxing Day sales begin and January sales loom, Consumer Affairs Minister Jenny Willott is urging consumers to shop responsibly and be aware of their rights to a refund or exchange.
This Christmas, shoppers were expected to spend over £20 billion buying their festive treats online, but with internet shopping and many other methods of buying, it can be difficult for consumers to know exactly what the rules are.
Consumer Minister Jenny Willott said:
At this time of year the shops are full of people on the look out for an extra bargain after Christmas. However, with so much choice available, people often forget to take note of their basic consumer rights.

Bargain hunters should also be savvy shoppers. Before handing over your hard-earned cash, make sure you know your rights with refunds or exchanges and if there are any restrictions on certain purchases. Nobody wants to start the New Year with goods they can't use or return.
Which? Executive Director, Richard Lloyd, said:
With many household budgets squeezed, millions of shoppers will once again be looking to find a bargain in the sales. It is important that people know their rights and that's why Which? has free online advice to help consumers get clued up in-store on their phones or when they get home.
General rules
When a consumer buys goods, they must be of satisfactory quality, fit for purpose, last a reasonable time and match any description given. If they don't, the consumer can usually get either a repair, replacement, refund or a partial refund. The consumer can pursue these options for up to 6 years from purchase (5 years in Scotland).
It is important to be aware that sometimes consumers won't have a right to repair, replacement or money back. For example if a consumer just changes their mind about something they bought in a shop they will not have the same rights as a faulty good unless the shop they bought from offers them under its own store policy.
Return deadlines
Consumers have a 'reasonable time', often around 4 weeks, to return faulty goods and get a full refund. After this, they may only be entitled to an exchange or partial refund.
Faulty goods
If goods are faulty, consumers don't need to have a receipt to return the item, just proof of purchase. However they may not be entitled to a refund if the fault is due to normal wear and tear, or if the consumer damages the item themselves. This will also be the case where the consumer was aware of the fault before they bought the item. If a consumer keeps the goods for too long before telling the shop or tries to fix the problem themselves, they might not be entitled to get all of their money back.
Sale items
Consumers have the same rights for sale items as they do for full price items, unless they are reduced as a result of a flaw which is drawn to the consumer's attention. Although most shops offer gift receipts, legally only the person who paid has a right to return faulty goods. To avoid any hassle it's best to use gift receipts where available, or get the trader to write ''this is a gift for —'' on any receipt or invoice.
Dangerous or unsafe goods
If an item is suspected to be dangerous or unsafe, the individual should stop using it immediately. Dangerous or unsafe goods should be reported to Trading Standards via the Citizens Advice consumer helpline available on 08454 04 05 06.
Private purchases
When a shopper buys directly from a private seller, they cannot get their money back if the goods are not satisfactory or fit for purpose. They do however have the right to get their money back if the item doesn't match the description, eg if the seller says the item works and it doesn't. Consumers should always ask for a receipt and contact details from sellers where they can, and keep copies of any relevant adverts or website pages.
Online auction sites
The general shopper's rights apply when buying from a seller who makes some or all of their income from selling through online auction sites.
Online, mail order and telephone shopping
Consumers who opt for these buying methods have extra rights in addition to the general rights. If they buy a service they can cancel their order up to 7 working days after making it, and if they buy goods they can cancel 7 working days after receiving the item. From June 2014, consumers will have 14 calendar days to cancel their order, under the Consumer Rights Directive.
Consumers can claim a refund if they don't receive their item within 30 days. However, consumers can't return certain goods that they have changed their mind about, including opened CDs or DVDs, fresh food, personalised goods, newspapers and magazines.
When buying online, consumers should be able to see certain information about the seller, the goods, and the seller's terms and conditions on the seller's website.
To see exactly what information is required visit Citizens Advice
Future proposals
Earlier this year, BIS unveiled the new draft Consumer Rights Bill. The Bill will clarify your rights for buying goods, services and digital content with workable remedies when things go wrong. It will empower consumers, making it easier for them to understand their rights. The publication of the Bill will take place, subject to parliamentary timetables, in early 2014.
Under the draft Bill consumers will have the right to:
get some money back after 1 failed repair of faulty goods (or 1 faulty replacement)
demand that substandard services are redone or failing that get a price reduction
get a repair or a replacement of faulty digital content such as film and music downloads, online games and e-books
the draft Bill also proposes a set 30 day time period for when consumers can return faulty goods and get a full refund.
Further advice
For more information on shoppers rights visit:
For advice on money or debt visit:
Notes to editors
Further information on the draft Consumer Rights Bill and the Consumer Rights Directive can be found at: Providing better information and protection for consumers.

The value of online retail spend by consumers in the run up to Christmas this year is forecast to reach £20.4 billion (IMRG Capgemini e-Retail Sales Index - November 2013).

The government's economic policy objective is to achieve 'strong, sustainable and balanced growth that is more evenly shared across the country and between industries'. It set 4 ambitions in the 'Plan for growth', published at Budget 2011:
to create the most competitive tax system in the G20
to make the UK the best place in Europe to start, finance and grow a business
to encourage investment and exports as a route to a more balanced economy
to create a more educated workforce that is the most flexible in Europe
Work is underway across government to achieve these ambitions, including progress on more than 250 measures as part of the Growth Review. Developing an Industrial Strategy gives new impetus to this work by providing businesses, investors and the public with more clarity about the long-term direction in which the government wants the economy to travel.
Published 27 December 2013