News story
Kit movements run smoothly as Afghanistan drawdown continues
As base closures and handovers continue in Helmand, the flow of equipment through Camp Bastion and out of Afghanistan is well underway.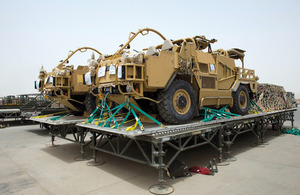 The good news for the UK taxpayer is that this is not just the military demonstrating their logistics prowess on a grand scale, but an exercise in accountability, responsibility and value for money.
Lieutenant Colonel Ceri Morton is based in HQ Joint Force Support at Camp Bastion. She is responsible for all the redeployment that takes place within Afghanistan:
As personnel redeploy, so the kit and the equipment they were using is redeployed in the correct form or status, or it is disposed of properly," she explained. "It means that all operational accounts are reconciled and closed and all real estate is either handed over to the legal owners or transferred to Afghan institutions in a responsible way.
Just a year ago, a tour of the real estate within Camp Bastion set aside to deal with all the stuff that would be rolling in through the camp gates required a good imagination. The guided tour involved peering through fences at huge dusty areas and being told 'this is where the ISO shipping containers will be going; over there vehicles will be parked before they are brought forward for servicing and maintenance; that's where they will be bio-washed'. It all seemed, to a civilian who has enormous trouble sorting out a garden shed, a hugely daunting task. But now that redeployment is in full swing, you need no vivid imagination. There it all is, and it's all working.
There are containers full of properly sorted out kit. Rows of palletised Jackals, and even the body of a Chinook helicopter, are all waiting on the tarmac to start the journey home.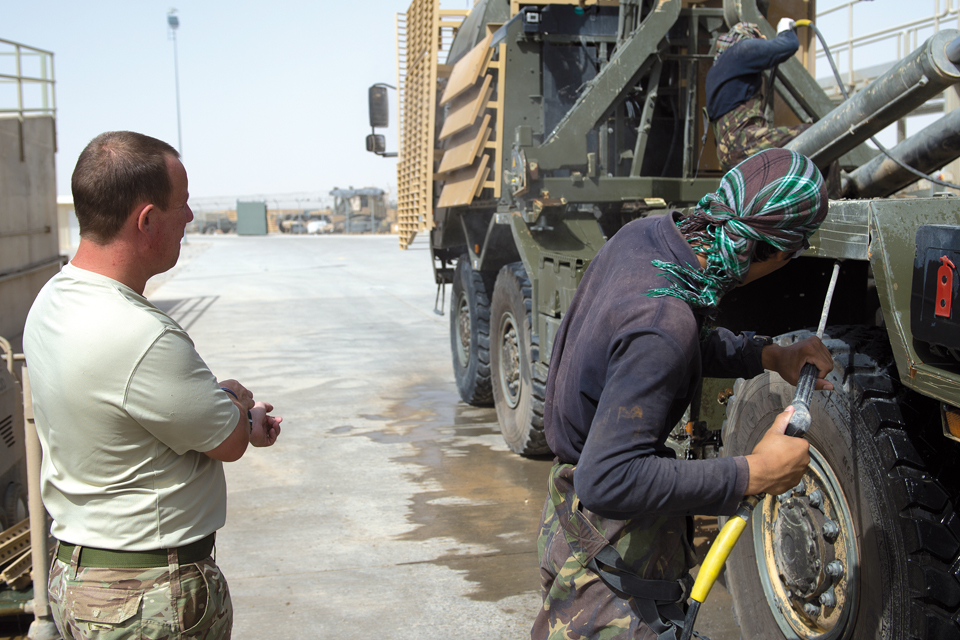 This time last year, the bio-wash, where vehicles are scrupulously pressure-washed to rigorous DEFRA standards, ridding them of any nasties that they may have picked up during their time in the sand, was just a scrape in the ground. Now it's working, often round the clock, on a 3-shift system. And it needs to, when you consider that it can take 12 hours to thoroughly clean a large container truck, and that by the end of 2014 something like 2,720 vehicles will have gone through the system.
Each step of the process to get kit from the front line back to the UK has been carefully thought through:
A lot of planning has gone into this, not just the space that's required, but also the linear design," said Major Stuart Ferguson, Officer Commanding Reverse Support Chain (RSC) Squadron. "It's all been designed so that materiel flows in, through and out again smoothly.
But we shouldn't be surprised. After all, the British military have been breaking down bases for centuries, and lessons have been learned from Iraq. Stretched out before us in Bastion is the result. It all seems very logical.
A pan-defence planning group in the UK created and has overseen all of this," said Lieutenant Colonel Morton. "It involved detailed planning in theatre too by Joint Force Support and an investment of around $11 million in the reverse supply chain infrastructure to make it happen.

We've got a load-handling area for when the shipping containers of kit come back in, we have weighbridges, an airside storage facility and a cargo yard all set up deliberately.
Surplus to requirements
This is the first stage of what is a 3-stage process, possibly the biggest logistical challenge in a generation. Stage 1 starts when an operational commander decides that a piece of equipment or a vehicle is surplus to requirements in theatre:
It's declared as surplus by the pan-defence planning committee in the UK," said Lieutenant Colonel Morton. "A subset of that committee then considers whether that item will be needed for future operations.

No decisions are made about any of this in theatre. If it is needed, the questions then asked are how much will it cost to bring back? What state is it likely to be in? Would it be cheaper to dispose of it? If that's the answer, we figure out the best way of going about it.

We reconsume wherever we can. We eat it, fire it, put it in our fuel tanks, use up spares before ordering more.
Front line support remains main effort
But the logistics team (loggies) get an extra layer of job satisfaction; because, although redeploying kit might be the main activity, supporting operations is still the main effort. So they have to keep a keen eye on kit movements both in and out of theatre. They must make sure that the troops have all the beans, bullets and bandages they need.
Lieutenant Colonel Morton is professionally relaxed about that. Logistics, she is keen to point out, is a science not an art. So, while no extra kit will be flown into Afghanistan if there is no clear need, stocks will match the capability that is needed on the ground:
We've been in Afghanistan for more than 10 years, so we pretty much know what the demand is here, based on the tasks the units have to perform," she said. "Our profiles and our systems mean we can track items and identify and manage surpluses pretty effectively.
Getting sorted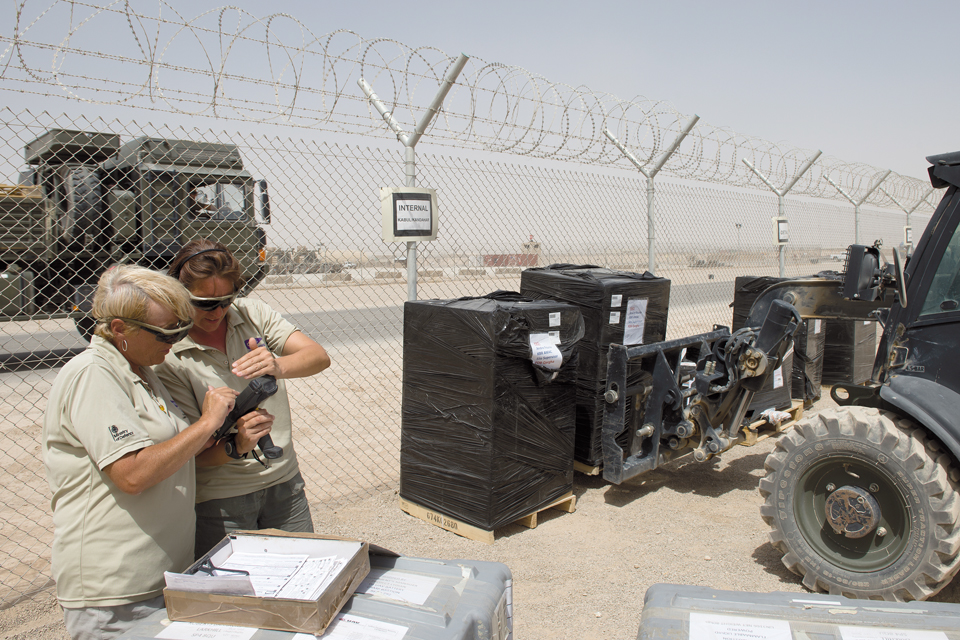 The second stage is moving all the equipment and vehicles out of Afghanistan to their next destination. This activity is owned by the Permanent Joint Headquarters in Northwood. The final stage is what happens to it all when it arrives at the strategic base, its final destination. But this part of the story all begins at the forward bases that are closing down, when everything is given its first sorting through.
We deploy a specialist logistics team forward to advise the bases. Effectively everything is sorted into piles such as equipment spares, ammunition, and so on," said Major Ferguson.

Then they sort it into piles, for example, things that it is really important that we don't lose track of, what is going to be needed right up to the last minute, and things deemed 'ACTO' – attractive to criminals and terrorist organisations. This includes things like batteries and old fire extinguishers which could be used by insurgents to make IEDs (improvised explosive devices).
Then, in a similar way to which it first arrived, delivered by combat logistic patrols, it all finds its way back to Bastion where further sorting takes place and more experts are on hand to give advice.
Teams of subject matter experts from the depots at Bicester and Donnington and people with expertise in weapons and dangerous goods, such as paints and gases, are on hand to offer advice with the sorting and checking. Major Ferguson said:
There may be some doubt about a particular item and we can get it from the horse's mouth – 'well, if you did send that all the way back to the UK, it would only get disposed of, it wouldn't go back on the shelf' – so we can then dispose of it here, saving the cost of transport.
Handle with care
Up to this point the kit is still the responsibility of the unit that owned it. Once the amount and condition of the returned kit has been agreed, it is signed off and is no longer the responsibility of the unit. It is this level of accountability which has helped to avoid the problem that has reared its head in the past, where soldiers, eager to get away, resort to throwing things into a shipping container for the loggies to sort out later. Mick Thorn, one of the reverse support chain experts, said:
Some of my team have experienced returns from other operations where that's happened, but this has been conducted entirely differently.
Wrenches at the ready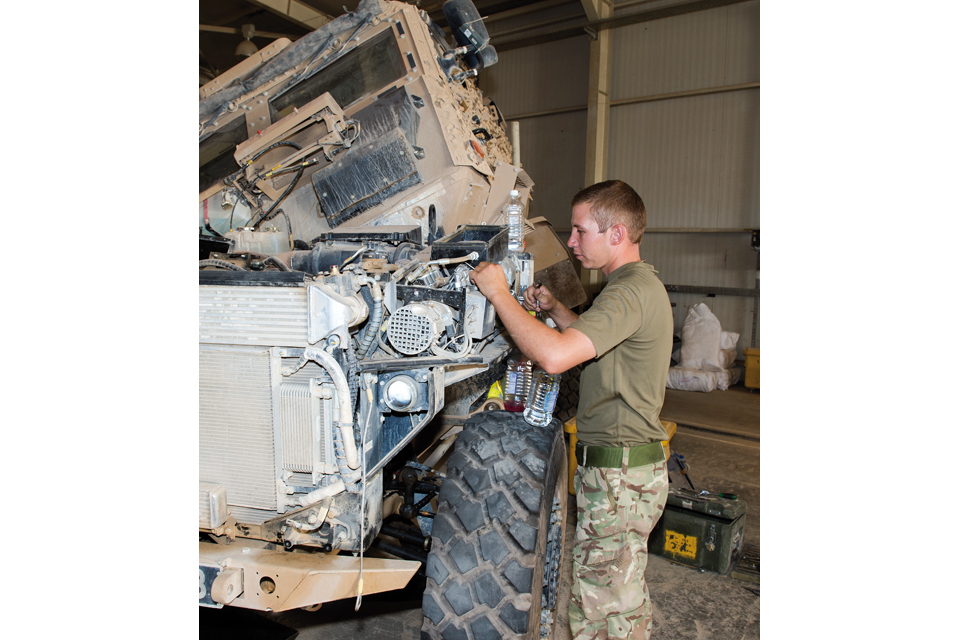 Over at the light engineering workshops of the Theatre Equipment Support Group, the same smooth thinking is being applied to the vehicles leaving theatre. This is the Bastion-based hub of the engineering expertise for servicing and upgrading vehicles in theatre.
During periods of what the troops call normal jogging, vehicles are maintained as far forward as possible. But vehicles that are leaving theatre get their final servicing here:
We know what's going to be coming in," said the officer commanding, Major David Smith. "We know what the next tour [Herrick 19] will need. The bandwidth of our activity is redeployment now. But it doesn't matter to us; whether we are working on a vehicle that's going back to the front or going home, we have plenty of experience working on all vehicles across the fleet, so we have nothing to fear.
What matters here, as it does at every stage of redeployment, is maintaining a smooth flow of work.
When their tour began, due to the pace of base closures, there was a bow wave of vehicles for the engineers to attend to and bring up to standard:
We deployed with fewer headcount," said Major Smith, "but we brought a surge of 230 vehicle mechanics and other trades with us to deal with the backlog of vehicles. We took over 130 vehicles as part of the redeployment. It took us about 6 weeks to deal with the backlog.

It's been a real mixture, but what we are working on now is the last wave of Jackals and Coyotes being pushed through by the end of September.
Into the air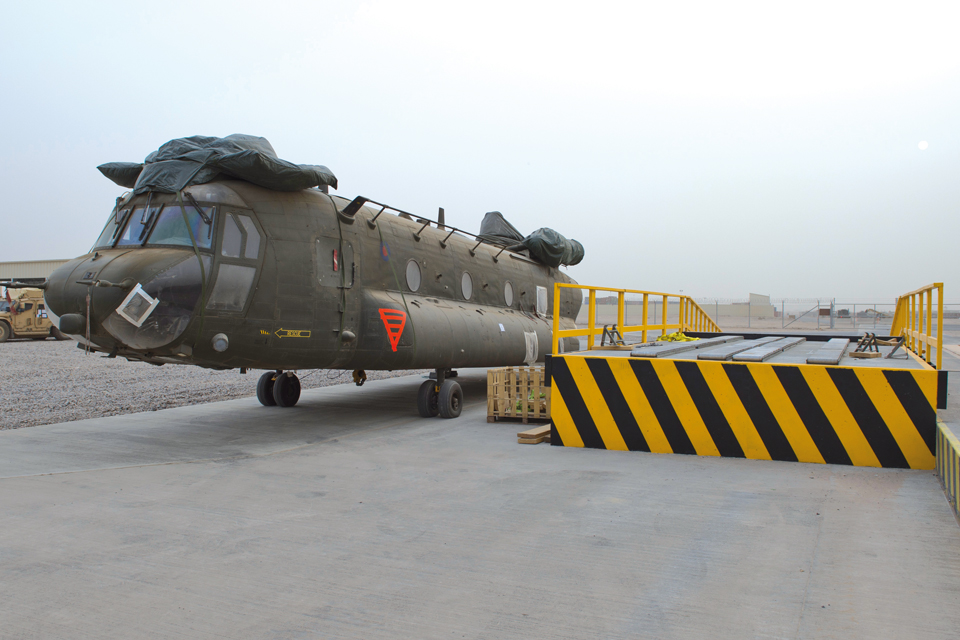 Over at the cargo ready to move yard, duty air movements officer Flight Lieutenant Chris Ashby is one of the last people to wave all these vehicles and pallets of kit goodbye as they leave theatre:
We handle up to 10,000 passenger movements a month, so our redeployment has to fit within that," he said, "which means we have to have a close relationship with the RSC Squadron to supply us with the vehicles and freight leaving theatre.
Each C-17 transport aircraft can cope with between 2 and 4 vehicles. Lieutenant Colonel Morton said:
Working at full tilt we are shifting about 150 vehicles a month. Between the beginning of October 2012 and the end of July this year we've done 1,000 vehicles and major pieces of equipment.
Flight Lieutenant Ashby said:
We are moving about 700 pallets of kit a month. Every other day we move a 747's worth of freight in and out of theatre. We are bringing in things like food and sending out around 80 tonnes, that's 42 pallets of equipment every 2 days. But we are within our capacity.
To make it all work, hard standing areas have been specially laid down for the freight, and dust-free areas created for the vehicles prepared for redeployment. Flight Lieutenant Ashby said:
We have space for about 30 vehicles, that's inbound as well as outbound, so we don't want anything sitting here for long, nobody wants that.
Up to the end of September a major task was returning the Jackal vehicles, 2-at-a-time on each 747 run. To speed up the preloading process, a bespoke method for palletising and strapping down the vehicles was introduced, satisfying international air transport regulations:
We also built a ramp so that vehicles up to 10 tonnes in weight can drive up onto a special outsized pallet which can then go straight onto one of our aircraft freight-loading vehicles," said Flight Lieutenant Ashby.

We are at the end of a very long line, which is why it's so important that we keep in close touch with the Joint Force Support people so we get the correct flow and the right balance of kit and vehicles flowing through.
Smooth operators
Lieutenant Colonel Morton may have overall responsibility for co-ordinating all this, but, as she is keen to point out, redeployment on this scale is a team sport. She said:
It's the responsibility of every unit in theatre and every deployed command.
But from the evidence on the ground, it looks like everyone in that very long line has responded to that challenge and are keen to be seen as smooth operators.
This report by Ian Carr features in the October 2013 issue of Defence Focus – the magazine for everyone in Defence.
Published 18 October 2013