Press release
Kids encouraged to veg out in school
Encouraging more schools to grow fruit and vegetables.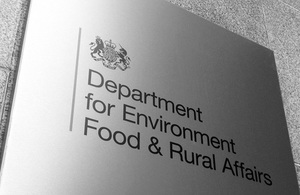 Children in more than half our secondary schools are missing out because they don't grow their own fruit and veg according to a group of experts including a celebrity gardener, an international sportsman and a national supermarket. The group have come together to encourage more schools to grow fruit and vegetables.
The Food Growing in Schools Task Force is led by Garden Organic and includes Blue Peter gardener Chris Collins, former England rugby union captain Lawrence Dallaglio, The Sun's gardening correspondent Peter Seabrook, the Royal Horticultural Society, the Women's Institute, and Morrison's supermarket.
Research shows that more than 96 per cent of children are not eating enough fruit and vegetables and that children in schools which grow food eat more than one and a half more of their five-a-day than other school children.
Launching the Task Force at the Chelsea Flower Show today, Environment Secretary Caroline Spelman said:
"With fewer than half of our secondary schools involved in growing schemes, our children are missing out on a growth opportunity.
"Getting kids growing their own fruit and vegetables not only teaches them where food comes from and the importance of eating healthily, but can also teach them enterprise skills and build community spirit. That's why we're backing this scheme to encourage every school to be a growing school."
The Task Force will look at schools that are already running successful growing schemes and find out what's preventing other schools following their lead. Defra-funded research will back the Task Force with evidence on the ways that growing food can benefit children.
Blue Peter gardener and Task Force member Chris Collins said:
"We need more people to develop a passion for horticulture at a young age. What better way to do that, and teach valuable life skills at the same time, than through food growing? All sorts of life lessons can be gained through the mechanism of gardening and growing food and I am enthused that this taskforce could play a part in creating the nation's future professional gardeners, smallholders, producers and farmers."
Former England rugby captain and Task Force member Lawrence Dallaglio said:
"Getting children growing in school is about so many things: developing skills and providing practical experience, giving access to fresh healthy food, and the opportunity to spend time outdoors and be active. There are so many positives, and many with long-term benefits for a child's future. I'm looking forward to looking at the evidence and seeing what the taskforce can do to ensure every child gets the same experience."
Task Force chair and CEO of Garden Organic Myles Bremner:
"We have seen first-hand that food growing in schools has wide reaching benefits. What we must determine is how the act of getting children growing food can impact positively on areas such as the future of public health, developing skills and building communities - something we believe it can. This taskforce will look at the evidence and look at the solutions to ensure that no barriers exist to prevent any child from having the experience of growing food."
Notes
More information and a full list of Task Force members is available at: www.gardenorganic.org.uk/foodgrowinginschools.
Over 96 per cent of children do not eat the recommended levels of fruit and vegetables (NDNS report 2000). A 2010 report for the Royal Horticultural Society found that vegetable intake was almost one serving per day greater in schools with a growing food curriculum, and combined fruit and vegetable consumption increased by one and a half servings.
In 2010 the Children's Food Campaign produced a manifesto entitled 'Every School a Food Growing School', listing the wide range of potential benefits from food growing in schools and calling for a Task Force of experts to find ways to enable every school to be a food growing school.
Published 23 May 2011