Press release
Kidderminster man sentenced for running illegal hazardous waste site
Michael Wright was sentenced to a suspended prison sentence following an Environment Agency prosecution at Worcester Crown Court.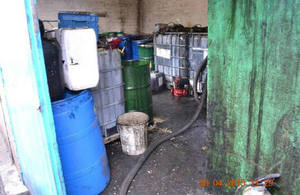 Mr Wright, who traded under the name of "Port Oils", pleaded guilty to 5 charges relating to the unlawful operation of a waste site at Smethwick Drop Forge in Kidderminster. He was sentenced to 6 months imprisonment suspended for 24 months and also ordered to complete 150 hours of unpaid work.
Mr Wright produced Hazardous Waste Consignment Notices (HWCNs) containing false information to customers from whom he collected waste oils. He then transported the oils to the site pending re-sale. When Environment Agency officers visited the site, they found over 3,000 litres of waste oil being illegally stored in plastic and metal containers. There were no measures in place to prevent the oil from reaching open water drains nearby in the event of a leak.
Speaking after the case the Environment Agency officer in charge of the investigation said:
Waste crime is a serious offence with tough penalties as it can damage the environment, blight local communities and undermine those who operate legally. This case sends out a clear message that we will not hesitate to take action to ensure the protection of water supplies and the environment.
You can call the Environment Agency on 0370 850 6506 to find out how to responsibly manage any waste your business produces or visit the managing your waste pages on GOV.UK. We can all play a part in helping to prevent waste getting into the hands of criminals. If you suspect that a company is doing something wrong, you can call the Environment Agency on 0800 80 70 60 or report it anonymously to Crimestoppers on 0800 555 111.
Published 27 April 2016