News story
Khat to be made a Class C drug
The Home Secretary announced on Wednesday (3 July) that she will ban khat by making it a Class C drug.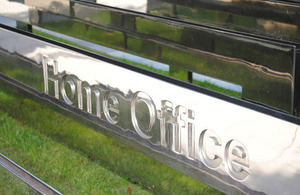 As a Class C drug, anyone caught trafficking or supplying khat will face up to 14 years in prison and an unlimited fine.
Decision
Before making her decision, the Home Secretary consulted the ACMD which undertook a review of the available scientific evidence on harms. Although the ACMD did not recommend banning khat, it acknowledged an absence of robust evidence in a number of areas and the complexity of the wider community issues associated with the drug. Ministers are expected to take these broader concerns into account in addition to the ACMD's advice.
Theresa May said:
Harmful drug use has a serious impact on UK society.

I have carefully considered the ACMD's advice before reaching this decision and looked at wider concerns from communities about khat use and our international responsibilities.
Khat is already illegal in most of Europe as well as Canada and the United States.
Seizures
There has been an increase in seizures of the recreational drug en route to the Netherlands from the UK since the Dutch ban earlier this year.
The Home Secretary added:
Failure to take decisive action and change our legislative position on khat would place the UK at serious risk of becoming a single, regional hub for trafficking.

Banning khat will help protect vulnerable members of our communities and send a clear message to an international audience that the UK is a hostile place for traffickers.
To ensure a proportionate and robust policing response, the government will introduce an escalation framework for the possession of khat for personal use, similar to that in place for cannabis.
Parliament has been notified in a statement today that the government will bring forward the legislation at the earliest possible opportunity. The letter from the Home Secretary to the ACMD is also available.
Published 3 July 2013