News story
Justine Greening praises British humanitarian workers
Statement by Justine Greening on World Humanitarian Day 2014.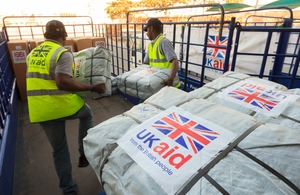 On World Humanitarian Day, International Development Secretary Justine Greening said:
"British humanitarian workers are the difference between life and death in countless trouble spots across the world including Iraq, Gaza and South Sudan, and I am incredibly proud of the work they do, not least those who work for DFID.
"World Humanitarian Day recognises aid workers of all nationalities who have chosen to put themselves in the most inhospitable places, often in extreme danger, to alleviate the suffering of millions affected by conflict, natural disasters and deadly diseases.
"This is our opportunity to thank them and to remember the ultimate sacrifice paid by the 79 humanitarian workers who have died in 2014 so far. In particular I want to remember British humanitarian adviser Del Singh who was killed in Kabul in January while striving to make Afghanistan a better place."
Published 19 August 2014