Jeremy Browne visits South East Asia
Foreign Office Minister Jeremy Browne is in Bangkok on the first leg of a visit to Thailand, Hong Kong, the Philippines and Indonesia.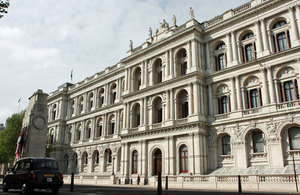 It is the Minister's first trip to the region. During his time in Thailand he held a meeting Foreign Minister Kasit, during which he discussed deepening and broadening the political and trade relationship between the UK and Thailand, Thailand's national reconciliation process and the upcoming elections in Burma.
The Minister also visited the Ratchaprasong intersection with the Bangkok Governor, Sukhumbhand Paribatra, to see for himself the efforts to restore the area following the recent redshirt protests. In addition he visited Khao San Road and met representatives from the local police. He also met heads of the British Chamber of Commerce, to reinforce the UK government's commitment to reinvigorating its political and trade relations with the country and the region as a whole.
He will also deliver a keynote speech entitled "UK and Thailand - a partnership for the future", which will focus on the importance of the UK-Thailand bilateral relationship in the context of a networked world.
Published 19 July 2010