Jeremy Browne visits South America
Minister Jeremy Browne is visiting Colombia and Chile to boost British business.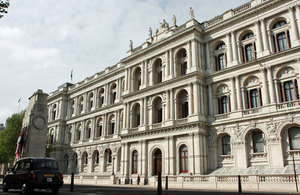 Minister Jeremy Browne arrives in Bogota today on the first leg of a visit to South America. He will spend three days in Colombia before travelling to Chile. It is his first trip to South America since his appointment as a Minister of State for the Foreign Office in May.
Minister Browne will represent the United Kingdom at the inauguration of President-elect Juan Manuel Santos. He will also have an audience with Mr Santos and key members of the new Colombian government, including the Vice President and the Defence Minister.
At an event hosted by the Colombian Environment Minister in Bogota on Monday 9 August, Minister Browne will make a keynote speech promoting UK-Colombia business links and championing Colombia's potential to become a global environmental power. He will also have meetings with key NGOs working in the country.
During his time in Chile, Minister Browne will have meetings with Foreign Minister Moreno, members of Congress and the Commander-in-Chief of the Navy. He will also promote trade and investment opportunities in discussions with the Chilean-British Chamber of Commerce and will show his support for HSBC Bank's new retail banking operation in Chile.
Speaking ahead of his visit, Jeremy Browne said:
"It is no coincidence that I have chosen to visit Colombia and Chile so soon into the job. The Foreign Secretary has said on many occasions since taking office that the new coalition Government in the UK wants to elevate the relationship with Latin America.
"The UK has close and long lasting ties with both countries. Our trade and investment links are strong. UK exports to Chile increased by 76% in 2009 to £484m, while the UK is the second largest investor in Colombia. I want to see these links strengthened in the years to come.
"We are also close partners on tackling climate change. Both Colombia and Chile have shown real leadership by pushing for a legally binding agreement on carbon emission reduction and the UK will continue to stand shoulder-to-shoulder with them in the run up to the UN Climate Change Conference in Cancun later this year."
Published 6 August 2010