Jeremy Browne on the UK's response to the Japanese earthquake
Foreign Office Minister for South East Asia gives details of the UK response in radio interview.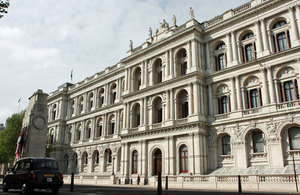 Programme: BBC Radio 4 PM
Date: Saturday 12 March 2011
Ritula Shah (Presenter): The Japanese government today appealed directly to London for help with the search and rescue effort and it's been confirmed that a team of experts is on its way. Jeremy Browne is a foreign office minister.
Jeremy Browne (Minister of State in the Foreign and Commonwealth Office): The first thing that we put on the table straight away when we talked to our friends - the Japanese government - is we said to them, 'if we can be of any assistance in terms of search and rescue capacity, let us know. That offer is on the table. We want to help.' They understandably took a bit of time to assess the situation; it's something truly devastating.
It's the worst earthquake in their history but they have now accepted our offer and so, over the course of this afternoon, a big team - a DFID team of search and rescue experts, 63 people plus two dogs - is leaving from Britain to go to Japan and they will be playing a part in the overall search and rescue exercise which is obviously being led by the Japanese.
RS: There has been this explosion at the Fukushima nuclear plan. Do you expect to perhaps send any sort of nuclear expertise to Japan as well?
JB: Our Foreign Secretary William Hague had a conversation with the Japanese foreign secretary a few hours ago and obviously this is a situation the Japanese need to manage and lead themselves.
They are a very advanced country in terms of nuclear technology, but the Foreign Secretary said to the Japanese if there is anything that we can do to help, if there's any expertise in terms of nuclear physicists that we can provide in terms of giving them any extra insights or extra capacity, then the offer is on the table and they only need to let us know.
RS: In the past there have been concerns that the Japanese authorities have downplayed the risks of nuclear accidents. Are you concerned that that could be the case this time?
JB: I am not in a position to make an assessment. I am here in London and I am not a nuclear physicist, but we have no reason to believe that the Japanese authorities are doing anything other than handling this in a very systematic and professional manner.
RS: There are large numbers of British nationals in Japan. What can you tell us about them and their safety?
JB: You are right. There are large numbers of British nationals. We are trying to make sure that we identify, as speedily as possible, given that we are operating within what is a disaster area, any British nationals who need assistance.
RS: Jeremy Browne.
Published 13 March 2011