Foreign Office Minister aiming to boost business ties, and follow up on the Foreign Secretary's commitment to deepening UK-Japan relations.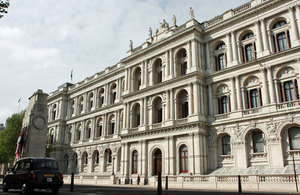 During his 3-day visit, from 9 to 11 September, Jeremy Browne will spend a day in Tokyo before travelling to Osaka. It is his first trip to Japan since his appointment as a Minister of State at the Foreign and Commonwealth Office in May.
During his time in Tokyo, the Minister is having meetings at the Ministry of Foreign Affairs, the Ministry of Justice, the Cabinet Office, and the Ministry of Economy, Trade and Industry. He is also meeting with British business representatives in Japan.
In Osaka the Minister will join a gathering of Japanese investors and researchers, meet with participants of the Japan Exchange and Teaching Programme (JET), and take part in a discussion with senior Japanese academic representatives, to follow up on the Foreign Secretary's commitment to develop UK-Japan collaboration in higher education.
Speaking during his visit, Minister Browne spoke about the importance of UK-Japan relations.
"The new coalition Government in the UK is determined to deepen its relations with Japan. We share many values and work closely on the full range of international issues, including Afghanistan, Iran and non-proliferation.
"The trade and investment relationship between our countries is of course hugely important. The UK Government is 100% committed to creating an open welcoming environment for foreign investment, and Japan is a crucial partner in this. Japanese companies are vitally important to the UK's economy and economic recovery and we will welcome and support new investment alongside existing investment."
Published 9 September 2010