Jeremy Browne concludes trip to Far East
Speaking from Beijing airport at the end of a week-long trip to the Far East, the Minister discusses the importance of UK-China relations in a short video clip.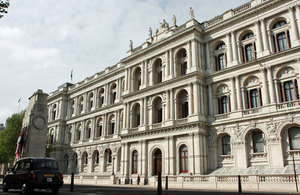 Jeremy Browne has finished a week-long visit to the Far East, during which he visited Japan and China.
Speaking at the end of his trip in the video below, he discusses the importance of UK-China relations, the strong mutual benefits of working together and the positive dialogue between the two countries.
During his five-day trip to China, the Minister spent the first three days in Shanghai, where he attended a number of Expo-related activities. In Beijing, he went to a Leadership Forum under the theme "China-UK Partnership in a Post-Crisis World", where he met Vice Foreign Minister Fu Ying and other government Ministers. He also met with influential Chinese academics to discuss security issues at a South East Asia Round table.
Before visiting China, the Minister went to Japan, where he went to meetings at the Ministry of Foreign Affairs, the Ministry of Justice, the Cabinet Office, and the Ministry of Economy, Trade and Industry. He also met British business representatives.
Published 16 September 2010