Jeremy Browne brings GREAT Britain to Japan
With 75 days to go until London 2012, Foreign Office Minister visits to promote Britain as a GREAT destination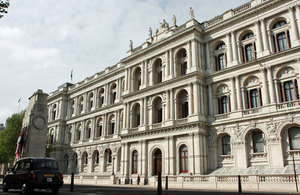 Jeremy Browne has concluded his 3-day trip to Japan by meeting with Japanese sprinting star Nobuharu Asahara to talk about the upcoming London 2012 Olympic and Paralympic Games. Later in Osaka he met with members of Cerezo Osaka's football team, some of whom will probably be part of Japan's London 2012 male football squad.
The Minister took the opportunity to invite Japanese people to experience what the UK has to offer, particularly this year, saying:
"We're looking forward to inviting Japan's Olympic and Paralympic squads to the UK . This is London's third Games and Japan's first in London. Many Japanese people already know and love the UK, including business people, students and tourists. But we want more to see the attractions of the UK and 2012 is the perfect chance with the Diamond Jubilee and Olympics and Paralympics highlighting the UK's diverse strengths and attractions".
You can hear more from Jeremy Browne in the following video.
During his time in Tokyo, the Minister is had meetings at the Ministry of Foreign Affairs, and the Ministry of Justice as well as meeting with British business representatives in Japan. He also had discussions with Japanese parliamentarians about the continued use of the death penalty in Japan, which the UK opposes.
In Osaka the Minister met with the Governor of Osaka, joined a gathering of Japanese investors, met Japanese high school students learning English with the British Council and spent time with the consular wardens of the British community.
Published 17 May 2012