Press release
Ivory poaching hits record levels
A new drive to help save the elephant has been launched today by the government, in the wake of the highest levels of ivory poaching since records began.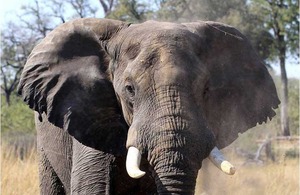 The Convention on International Trade in Endangered Species (CITES) estimates that in 2011 at least 17,000 elephants have been killed illegally in Africa alone but the real figure may be much higher.
At the same time a YouGov poll commissioned by Defra shows that more than a third of UK consumers are still unaware that parts of elephants (and other endangered species) are popular ingredients in traditional alternative medicines.
Ivory is often used to carve valued ornaments and is falsely believed to help cure some diseases. If this continues, elephants could become extinct within our lifetime.
Speaking at today's launch at Knowsley Safari Park today, Environment Secretary
Owen Paterson said:
Today, we are here to highlight the plight of this iconic and majestic animal, to ensure it's still here for our children, and for future generations.
It's totally unacceptable that elephants are being poached at such an alarming rate, fed by a high demand for traditional Asian medicine.
We are calling on people never to buy ivory or products that contain it, as if we buy, elephants die.
Broadcaster and writer Ben Fogle who is supporting the campaign said:
It's unacceptable that elephants are being killed purely for their ivory. We must do all we can to stop this devastating crime and the ever increasing demand for ivory products. I am supporting the 'If They're Gone…' campaign to raise awareness of the crisis situation which these truly breathtaking animals are in. We all need to act now before it's too late.
Part of the year-long endangered-species campaign, 'If They're Gone', the elephant season will run for three months, offering practical advice to consumers and tourists about how can play their part. Over 20 partners including wildlife organisations, zoos and safari parks have joined this fight to save them.
Eveline De Wolf, Head of Animal Management at Knowsley Safari comments:
Many people will never see a herd of elephants in the wild, which is why safari parks have such an important role to play in helping communities understand the impact of poaching on this keystone species.
At Knowsley Safari, we have the power to make a difference, and through conservation and education, we are working to make sure that our children's children grow up in a world where an elephant is more than just a memory.
You can take the following steps to help protect the elephant:
Don't buy ivory. If you buy, elephants die.
Think before you buy anything that could be made from or contain body parts of endangered species such as certain alternative traditional medicines;
Ask where products have come from and if they have been produced sustainably;
Get involved and support wildlife conservation programmes;
Spread the word - tell your friends and family about elephants and how important it is to help protect them; and
Report any suspicious activity concerning the buying and selling of wildlife products to your local police.
As part of the campaign, a primary school poster competition has been developed in partnership with Eco-Schools. Children from across the country have been invited to submit posters with the chance of winning a tour of Parliament.
'If They're Gone…' focuses on the increasing threat to four endangered species; rhinos, elephants, orangutans and the tigers.
For more information see the 'If They're Gone…' Facebook page.
Notes to Editors
YouGov Poll - All figures, unless otherwise stated, are from YouGov plc. Total sample size was 1,704 adults. Fieldwork was undertaken between 24 - 25 February 2013. The survey was carried out online. The figures have been weighted and are representative of all GB adults (aged 18+).
The launch of the elephant season comes only two weeks after the Illegal Wildlife Trafficking Conference hosted by HRH The Prince of Wales and the UK Government. The conference brought together officials from African, Asian, European and American countries, NGOs and multilateral organisations and recognised that this trade not only affects conservation efforts but also fuels organised crime and undermines the fight against poverty. Governments who attended agreed to meet again in London in the autumn at Heads of State level.
For more information on the primary school poster competition see the Eco-Schools website.
Photo above by Tusk Trust.
Published 3 June 2013